Web Hosting for Nonprofits
Great causes deserve great web hosting. That's why we proudly help charities, nonprofits, churches, and other 501(c)(3) organizations achieve their online goals. Get a 15% discount when you host your website with us and two months free when you pay yearly.
Ready to Scale
If a fundraising campaign goes viral and your traffic suddenly surges, our auto-scaling infrastructure will ensure a smooth and uninterrupted experience for every user.
Safe and Secure
All sites on Kinsta are equipped with a free Cloudflare integration, which includes an enterprise-level firewall with DDoS protection and wildcard SSL certificates.
Google Cloud Security
We support your move to Google Cloud's premium tier network, optimizing for high performance. Choose from 35 global data centers and take advantage of the same infrastructure that powers Google Search and YouTube.
Optimized for Uptime
We check the status of all sites we host 720 times a day. Our proactive approach means in the rare event there's a problem with your site, our engineers can start investigating before you get in touch.
Daily Backups
Rest easy knowing your data is safe and secure with six types of backups. We back up sites daily and you'll always find 14 backups of your site in your MyKinsta dashboard.
24/7/365 Support
Get expert help around the clock. Our support team is the best in the industry because we only hire experienced developers, including many who've made voluntary contributions to the WordPress project.
Budget-Minded
We know nonprofits have tight budgets. That's why we offer discounted plans to help your organization access affordable, enterprise-grade web hosting.
What Our Customers Say
Kinsta provides a fantastic product and rock-solid support when it's needed. We are recommending the platform more and more to our clients. The bonus of reduced pricing for non-profits makes it a no-brainer for hosting your WordPress site.
Mightycause is an online fundraising and donor management platform for nonprofits. While we have our own development team, we utilize WordPress for hosting our educational and blog content. Initially we self hosted on AWS but found it time consuming to manage updates and servers. After looking for a cost effective and turn-key solution we found Kinsta. Our engineering team had strict requirements for stability, speed, and maintainability. Kinsta checked the box on all of these and more! The move to Kinsta was really painless and quick, compared to other WordPress migrations we have done. They had one-on-one support to help us migrate from our AWS instances to their service. Since moving to Kinsta our team has been able to focus on our core product and not on managing a WordPress blog. We are beyond thrilled with the support and service we have received and recommend Kinsta to anyone running a WordPress blog.
Our web design firm has been relying on Kinsta for several years now to host and support websites of all shapes and sizes, including our valued nonprofit clients. Having a hosting partner that can scale with our clients' businesses and provide access to the tools and technologies to help them grow their business helps our WordPress designers focus on creating beautiful websites knowing the Kinsta team has our back.
All our websites are hosted by Kinsta and we couldn't be more happy. We don't have to care about server speed, management, and technical issues. Support is wonderful, always available, and ultra professional. When you have a plug-in issue at 4 PM and it takes 10 minutes for Kinsta support to help you, you know you're in the good place. Kinsta is an essential key for our org mission.
After struggling with shared, VPS and other WordPress hosts, we needed to find the right host that could deliver fast, dependable service, allowing us to communicate with those looking for help as well as those looking to help those in need. From migration to blazing fast WordPress hosting, moving our nonprofit organization's site to Kinsta was the best decision since establishing our online presence.
We had been with another hosting company for several years. Their customer service was always challenging. Two months ago, our site was hacked. Ever since then, we struggled to get it fixed. The hosting company not only doubled our monthly fees, but failed repeatedly to get the situation under control. They left us with a broken WordPress site that they couldn't fix. We lost revenues and site visits.

Finally, someone recommended we try Kinsta. In less than 48 hours, we were full transferred over and the site was no longer broken! They fixed everything so quickly. The customer service is incredibly responsive, 24/7 access, very pleasant and timely. We are so thrilled to finally have a true hosting partner that understands and knows how to help us. We are planning a lot of growth in the next year and are grateful to have found a hosting partner we feel confident will help us succeed.
After 5 years of hosting with Kinsta we've been nothing but delighted with their speed, service and overall experience.
Kinsta Web Hosting for Nonprofits
There are so many amazing nonprofits working hard to make the world a better place. We want to help where we can to advance your organization's mission with a great website that inspires your community to action.
| Plan | Discounted Price | Normal Price |
| --- | --- | --- |
| Starter | $29.75/month | $35/month |
| Pro | $59.50/month | $70/month |
| Business 1 | $97.75/month | $115/month |
| Business 2 | $191.25/month | $225/month |
| Business 3 | $289/month | $340/month |
| Business 4 | $382.50/month | $450/month |
| Enterprise 1 | $573.75/month | $675/month |
| Enterprise 2 | $850/month | $1,000/month |
| Enterprise 3 | $1,147.50/month | $1,350/month |
| Enterprise 4 | $1,402.50/month | $1,650/month |
Is My Organization Eligible for a Nonprofit Discount?
We offer a 15% discount to all charities, nonprofits, churches, and other 501(c)(3) organizations. Pay yearly and get an additional two months of hosting for free. All we need is a copy of your 501(c)(3), or your country's equivalent documentation, to support your nonprofit status.
We also offer discounts for open source projects. Get in touch with our sales team to find out more.
How Do I Apply for the Nonprofit Discount?
To apply for a nonprofit discount, get in touch with our sales team. Once we've received documentation confirming your nonprofit status, we'll apply the discount to all your future payments.
Your nonprofit site will need to have its own separate hosting account in order to receive the discount. For annual plans, we give you 2 months of free service on the top of the 15% discount.
How Kinsta Can Transform Your Nonprofit Organization
Nonprofits do incredible work helping to serve the common good. Though their emphasis is on public service, they still must be run like businesses. That means having a great website is a necessity. Whether you need to raise donations, spread awareness, or perform vital community outreach, hosting on Kinsta's industry-leading platform will help drive your organization's mission forward.
See how managed hosting will help your mission risk-free with our 30-day money-back guarantee.
Why WordPress?
WordPress is an ideal website platform for broadening your nonprofit's reach. With its $0 price tag and the robust volunteer community supporting it, WordPress offers many benefits:
WordPress is Open Source
WordPress is built by a worldwide community of volunteer developers. It's not owned by private companies or commercial entities focused on profiting from your use.
WordPress is Customizable
WordPress is known for its flexibility and extendability. There are many thousands of plugins that allow you to add any kind of functionality. You can start a blog, run Electronic Direct Mail (EDM) marketing, and easily accept donations. There are also thousands of themes to choose from so you can save money on web design.
WordPress is Scalable
Whether you have 100 visitors a month or 1 million, WordPress will grow with you. Pair it with our industry-leading managed web hosting for nonprofits and you'll never have to worry about your site going offline, leaving you to focus on your next big campaign.
Kinsta is Already Empowering Change
Thousands of nonprofits and charitable organizations use Kinsta to power their websites. ForestNation, Economic Policy Institute, Platform, and Mad In America Continuing Education are just some of the nonprofit customers we're proud to host.
Great causes need great web hosting. Enterprise-grade architecture, high availability, state of the art security, server-level caching, auto-scaling, six types of backups, real-time expert support, and free migrations are must-haves every business needs to succeed online. Your nonprofit can have these too, and at a discounted rate with Kinsta.
A Powerful Nonprofit Hosting Solution
Successfully scaling any organization online is all about getting the fundamentals right. We've designed every aspect of our web hosting for nonprofits to provide the solid footing your website needs, no matter your cause.
Fast and Dependable
Many of our customers report big decreases in page load times after switching to Kinsta. We only use state-of-the-art hosting technologies, like the latest PHP versions (8.0, 8.1, 8.2), Nginx, LXD software containers, MariaDB, and Google Cloud's compute-optimized C2 virtual machines. Choose from Google Cloud's 35 strategically placed global data centers and serve your site closest to where your user base is located.
Secure From Hacks
We've built our hosting solution on Google Cloud Platform, so you benefit from a security model that protects the likes of Google Search, Gmail, and YouTube. We use Linux containers (LXC)—and LXD to orchestrate them—to separate not just each hosting account, but each instance of WordPress for complete resource isolation. We have active and passive security measures in place to stop malicious intent, DDoS attack detection, Cloudflare integration, software-based restrictions, free SSL certificates, and hardware firewalls.
Instantly Scalable
Our scalable infrastructure, built on Compute Engine, is ready to handle even the biggest spikes in traffic, ensuring your site is always online. With our isolated software container technology, our virtual machines automatically allocate hardware resources to each site container as needed. That means you get a highly available hosting configuration that's private and secure by design while simultaneously allowing resources to be scaled up or down as your site demands.
Get Support From Kinsta
Web hosts are only as good as their people. That's why our customer support team is always on hand to answer all your questions, every hour, every day.
Raise awareness of your cause faster with free migrations
Let our migration team take care of your move, saving you time and money. Migrating a WordPress site requires experts who can solve unexpected issues with knowledge and care. We approach your site's move as if it were our own, leveraging years of hosting experience to get your site up and running just like it was before your move.
In addition to our discounted nonprofit pricing, we offer a 30-day money-back guarantee. We stand behind our services but if you're not happy with your hosting, cancel within the first 30 days and we'll issue a full refund.
Developer tools
Custom services
Give Yourself a Free 20% Speed Boost Simply by Migrating to Kinsta
We measured 3,200+ migrations over the course of a three-month span. On average, client sites experienced 20% faster load times just by moving to Kinsta. Here's how fast your site can run (and how slow the competition is):
From BlueHost to Kinsta: +39% improved page load times (avg.)
From Amazon AWS to Kinsta: +26% improved page load times (avg.)
From Digital Ocean to Kinsta: +26% improved page load times (avg.)
From Liquid Web to Kinsta: +32% improved page load times (avg.)
From Cloudways to Kinsta: +2% improved page load times (avg.)
From HostGator to Kinsta: +29% improved page load times (avg.)
From Dreamhost to Kinsta: +11% improved page load times (avg.)
From SiteGround to Kinsta: +13% improved page load times (avg.)
Other: +25% improved page load times (avg.)
How is this possible? Our customers enjoy:
A stack that's been fine-tuned for WordPress over the past 9 years
Google's Premium Tier Network to deliver website data faster
Free CDN powered by Cloudflare's global network of 260+ locations
A hard-to-beat server-level caching solution
Free migrations are available for all of Kinsta's plans, from Starter to Enterprise, regardless of how many sites you have. Simply sign up for a plan to get started. Test the service and the speed risk-free, and we provide a 30-day money-back guarantee. You only lose if you don't give this a try!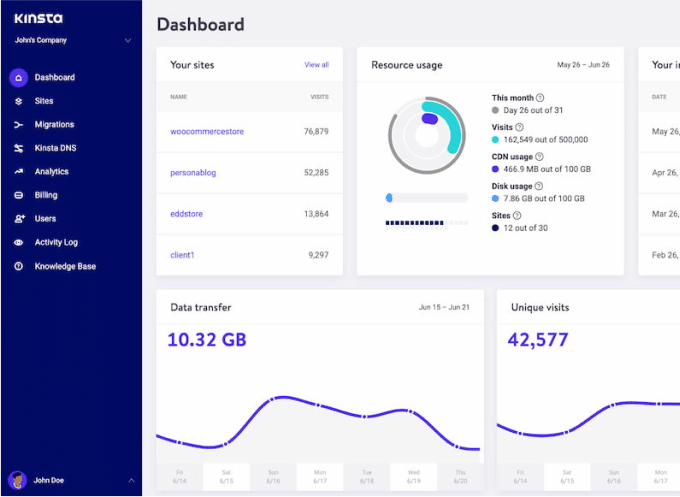 Simple site management with MyKinsta
We weren't satisfied with the existing control panels out there so we built our own dashboard specifically for WordPress. MyKinsta is designed for inexperienced users and developers alike. Manage your website, view analytics, collaborate with your team, configure for speed and security, access live chat support, and more.
Curious to see how MyKinsta can support your nonprofit site? You can book a live demo now!
Let's Make a Difference Together!
Spend more time focused on your nonprofit's work and leave the tech to us. Find the hosting plan that's right for your organization.
Get in touch with our sales team to set up your 15% non-profit discount. Plus, get two months free when you pay annually.