With 120,000 people searching for "Amazon Affiliate" per month, it's no surprise that the Amazon Associate Program is one of the best affiliate programs available on the internet. The reasons for this are:
You can leverage a brand authority of Amazon to sell any products (in short, higher conversion rates).
You get paid for "everything" that consumers buy using your affiliate link. For instance, if you are recommending a pair of Stan Smith shoes and the consumer buys Nike shoes instead, you still get a commission.
30-day cookie (if the user adds any product in the cart).
Smooth payment cycle.
Real-time sales and commissions tracking dashboard.
I started with my first Amazon Affiliate website years ago and I must say that it was one of the best decisions I have ever made. Now unlike hundreds of other case studies you've read on the internet, this case study is going to be different.
How is it going to be different?
Well, I'm going to reveal the URL of one of my live Amazon Affiliate website, along with all keywords and ranking strategy so that you can get a clear idea on how to move things in the right direction.
So without wasting any further time, let's get started.
How to Choose a Niche for Your Amazon Affiliate Website and Perform Keyword Research
The most common advice any SEO can give you about keyword research is to use tools such as Google Keyword Planner and select keywords that have high search volume and low competition.
Now let be clear on one thing – there is nothing called "high search volume and low competition." Whether it "best bluetooth speakers" or "best glitter heart stickers 2019" – everything has a competition.
Google doesn't have any metric called competition (the competition inside the keyword planner tool is competition for Adwords and not for SEO, however, it is an indicative metric of SEO competition as well. The greater the competition for CPC, the more likely the competition in SEO and hence more revenue potential too.)
Here is what you can do to find the keywords which can be ranked easily:
Visit Ahrefs, put in bestreviews.guide, and click on "Organic Keywords" from the left-side menu.
Apply the following filters:
Include: best, review
KD: 0 to 10 (Although there is no such thing as keyword difficulty, Ahrefs is the best tool available on this planet which can give you estimated keyword difficulty metric)
Keyword Position: 1 to 20
Sort by volume (higher to lower)
Here is a screenshot of the filters and keywords selection process.
Once you apply these filters, you'll get a list of keywords that can be ranked easily.
Why bestreviews.guide?
Because I think this site is dominating the "search" with automatically generated content (although now they have started adding some manual content as well) which has 16.4M visitors per month with almost 70% of them coming from Google Search (according to SimilarWeb).
The reason why I said it's automated content is that every single page has a similar structure and all of the content on the website is based on "templates". Google shows that bestreviews.guide has 250k+ pages indexed, which ultimately means they have reviewed at least 1M products, which is practically impossible unless they have a team of thousands of people working days and nights creating authentic reviews of every product.
I know this is surprising, but yeah – they are doing extremely well and I appreciate their skills.
But as Mike Tyson said:
Everyone has a plan until they get punched in the mouth.
We don't know if Google will wipe them out one day or if they'll continue growing their organic traffic at a rapid pace.
Anyways, let's make things more interesting now.
One of my SEO clients applied the same strategy and planned to create an Amazon Affiliate website in the "Coffee" niche. The URL of the website is coffeedx.com (The website link has been shared with the consent of the owner).
Coffee is such a broad topic to explore and has over 5M+ people searching various coffee types, espresso machines, and coffee recipes on the web. Therefore, the possibilities for expansion of this website are exponential.
Our strategy for keyword selection for this website was pretty simple:
Write recommendation articles about various coffee makers (as they have a moderately high price and search volume).
Write individual product reviews.
Write generic articles around coffee for the keywords which have monthly 5,000+ search volume.
Using the above strategy, we were able to pick 30+ keywords which could drive our sales and at the same time bring traffic for informative articles (we are not selling anything from these generic articles).
Here are a couple of examples for each type:
Listicles: Best Keurig coffee makers, best single serve coffee makers
Product reviews: Breville 870XL review
Generic articles: types of coffee
So you must have an idea about what kind of keywords you should select to get started. Note that if you can plan your entire content map for 6 months, you wouldn't stumble here and there and feel lost. So always plan your keyword strategy before starting and have the whole content map ready and laid out. Then make sure you stick to it.
This way you will ensure that content flow is in place and you don't have to spend more time doing more keyword research over and over.
Tip: A fellow blogger, Vivek Sacheti from India, has compiled this sheet of 1038 niche ideas for Amazon Affiliate websites, which can be helpful for you to select your niche and keywords.
(Suggested reading: How Much Is My Website Worth?).
How to Set up an Amazon Affiliate Website
Setting up an Amazon Affiliate website is pretty much similar to setting up a blog. All you have to do is make sure whatever you write is well-presented and that you use a high-quality hosting provider (Make sure your website uptime is close to 100% and load times are fast).
The design is so important that when it comes to establishing trust online and investing $50 to purchase a premium WordPress theme, it could be the best investment you can make.
Hers is a sample homepage of an Amazon Affiliate website I found on Google.
Since the main method of monetization for this website will be Amazon, try choosing themes that have one column, as one column (or full width) themes have better readability.
You don't need to have a sidebar section in your Amazon Affiliate websites, this will save more space and make everything simple and readable. You want to focus on conversions!
Along with the design, you have to make sure all basic pages such as about us/me, privacy policy, affiliate disclosure, contact us/me are in place.
Warning: I've changed the WordPress theme on one of my websites recently, and all rankings dropped by almost 80% (I know this might sound stupid, but that's the reality). As soon as switched back to my original theme, I was able to recover 100% rank. So make sure you stick to the same theme from start to end. The structure is very important.
What Kind of Articles Should You Publish?
As I have explained various types of keywords in the "keyword research" section, you must have an idea about how you will display and publish your content. But still, let me explain things in detail. Here are a few various types of articles that are typically used on an Amazon Affiliate website:
Listicles.
Individual product reviews.
How-tos or troubleshooting guides.
Interviews of influencers from your niche or maybe reviews of events/conferences from your niche.
I'll briefly explain each of these:
Listicle Articles
Listicle articles usually tend to attract more visitors, who have the intent to buy something. So these articles have to be lengthy (I usually prefer 3000+ words article when it comes to listicles)
Individual Product Reviews
Product reviews can talk about the pros and cons of a product and convince consumers on why that product is useful to them. While writing individual product reviews (or any article), try to keep the language simple and not too technical.
For instance, if you are writing a review of a mobile and you write: "Buy this mobile device because it has Bluetooth," it will always be under-performing as compared to writing something like "Buy this mobile device because it has a feature called Bluetooth, which will allow you to transfer images and videos across nearby devices". Try to explain every single feature of an XYZ product in detail and how it will be useful to buyers.
How-tos or Troubleshooting Guides
How-tos or troubleshooting guides can bring you a lot of users, for example in my client's case – we chose keywords such as "Keurig troubleshooting", which has 6600+ monthly search volume and such guides are capable of attracting a lot of backlinks. (I will cover the rankings and backlinking part in next section)
Influencer Marketing
Influencer marketing is the next big thing, as people believe in people more than brands today! When you get an army of influencers to talk about your brand/product – it gives you an enormous boost. Shredz is an example of a successful company that was built on an "influencer marketing" channel.
If you can manage to get a bunch of influencers to share their experience/interviews on your blog, you can get FREE content plus they will promote you on their social media channels, so it's a win-win for both.
How to Rank Your Amazon Affiliate Website
This is the "most important" part if you are fully convinced that you want to start with an Amazon Affiliate website and make money from it.
In my opinion, content plays only 10-20% role in case of new websites (while there are some exceptions too), but the whole game of SEO is all about backlinks. Period.
I will split the backlinks generation plans into 3 stages:
Beginner: In this phase, you get started with generating backlinks from free sources such as profile links, comment links, social shares, etc., which will create a small presence for your website in the digital world.
Ongoing: Outreach to bloggers/webmasters from your niche and ask them for links. This is a traditional strategy for backlinks generation, which is slow these days (but it still works).
Growth Hacks: You have to connect the dots and see what kind of content can attract links in bulk. Here are some examples of growth hacks.
Hack 1
Suppose my niche is, say, "fitness." I'd outreach to all the fitness bloggers and run some competition on my fitness blog and ask these bloggers to participate in the competition by providing them a badge that they have to place on their own blog. This badge will have a "powered by" link which will point to your website.
Hack 2
Suppose your niche is crypto, you could create a crypto price ticker WordPress plugin and place your "powered by" link in it.
Hack 3
You can reveal some bugs or technical errors in some tech startup and do PR of it and you'll attract a lot of eyeballs. For example – one guy revealed "How you can chat with any Facebook group member without being friend with him", which was a bug on Facebook and his article attracted tons of backlinks from big publications such as Mashable, Techcrunch, etc.
Growth hacking is not easy, and it needs a lot of experience and understanding of human behavior and sometimes technical knowledge too.
Now that you have understood how to build backlinks to dominate in "search", tracking your keyword rankings is the next important step. This can give you a clear idea of how your keywords are improving/declining with respect to time so you can take action based upon these ranking graphs.
I'm using my own tool Rankz for tracking ranks of thousands of keywords every day so I can get insights for my SEO campaigns. Here's what the dashboard of the tool looks like.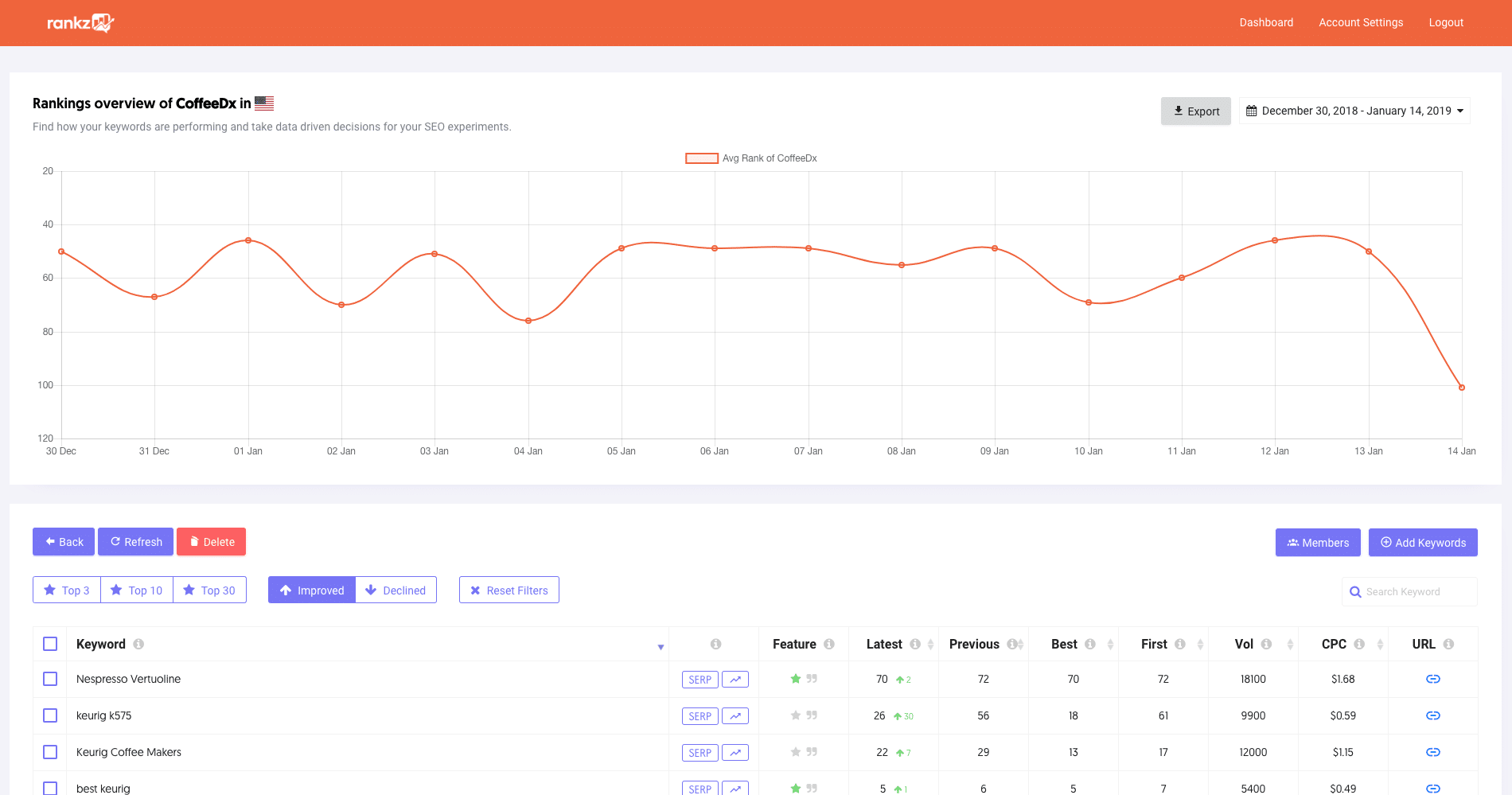 Improving Your Amazon Affiliate Conversion Rates
Once you start to rank a few (or all keywords) for some positions and start getting enough traffic (say, suppose 1000 visitors) per day, the next important thing is conversion optimization.
Before I answer the question of how to perform conversion optimization, I want you to understand one thing:
Marketing is all about understanding human behavior. Once you start understanding the behavior of users, tools or processes become irrelevant or less relevant.
Conversion optimization for Amazon Affiliate websites can be broken down into the following essentials:
Content optimization: Initially, I have explained how you should write content for listicles. If I have to give you a real example, let's consider an example of the "best espresso machine." All you have to do is break down various questions which you can possibly think of when you think about someone searching for an espresso machine online. Here are a few questions:
Are they looking for an espresso machine for home or office or a commercial cafe?
Do they know about the different types of espresso machines?
Do they know that selecting the wrong machine can cost a lot of money and time?
Do they know about the common problems with espresso machines?
Have they used an espresso machine before? Or are they buying the machine for the first time?
Once you start understanding your user's intent by answering all these questions, you can get the best possible content in your articles.
Design and placement optimization: As the name suggests, you have to play around with Call to Action buttons and their colors and content positioning. For example, you have to decide whether your article should start with "advantages of espresso machines" or "recommended espresso machine models."
Here is an example of a quick product recommendation section.
Using comparison tables (which should be responsive) is one of the best ideas for listicles, as it gives clarity on the pros and cons of multiple products to the consumers and it becomes easier for them to choose the right product.
Here is an example of a comparison table that converts well.
Another important aspect of conversion optimization is "data analytics." You need to test your hypothesis and gather the data to decide what works and what doesn't. Even if you don't have any advanced knowledge of data analytics, you can still achieve greater conversion rates. Coffeedx was able to achieve a 9% average conversion rate, which goes as high as 40% during December (thanks to Black Friday, Cyber Monday, and Christmas).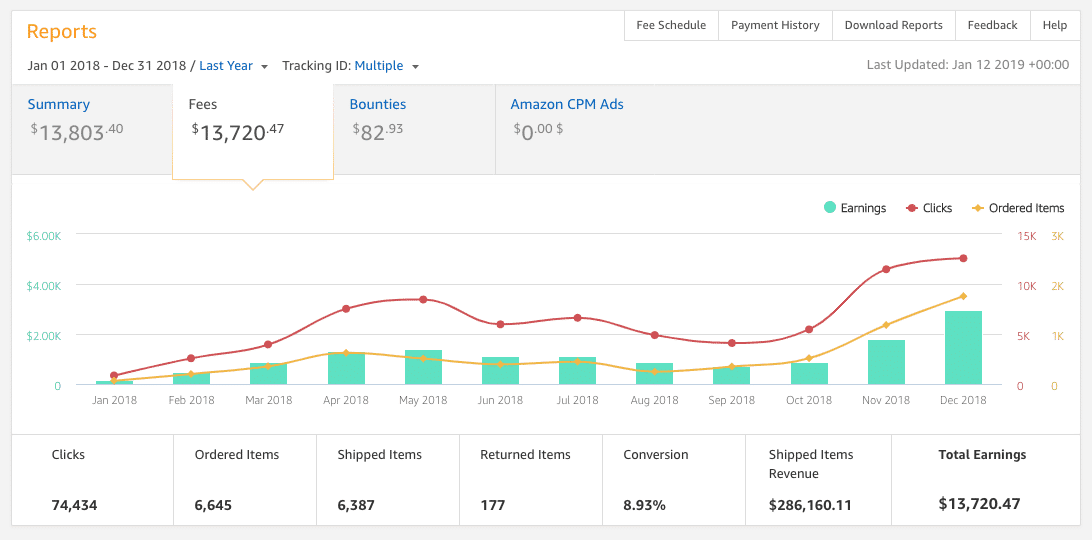 Remember, the goal of listicles is to send visitors to Amazon, and you have two elements on which you can make people click: images and text links. So make sure that you use CTA buttons and images, which are appealing.
Summary
I've tried to give you 100% actionable tips backed with my own experience building Amazon Affiliate websites. If I had to sum up everything in one line, I would say:
Create value, and money and fame will chase you! Chase money and fame, you'll eventually die chasing!
So if you're serious about taking advantage of an Amazon Affiliate website, I wish you luck and I hope to read your success story someday.