Are you a blogger looking to join an affiliate marketing program? These are a great way to earn a little extra money by promoting products relevant to your user base.
But before you start your paid promotions, there's something important you need to know about: affiliate disclosures.
If you're not properly disclosing that your promotions are paid advertisements, you could end up in trouble with your affiliate program or even the Federal Trade Commission (an independent agency of the United States government) that could mean big fines for you or whoever sponsored you.
That might sound scary, but as long as you follow the FTC guidelines, you have nothing to worry about.
In this guide, we'll break down some of the guidelines and tell you how to include an affiliate disclosure on your website.
What Are Affiliate Disclosures and Why Do You Need Them?
Bloggers and content creators hold a lot of power over their users. Their suggestions can be a big influence on what they purchase. How many times have you gone along with an endorsement from someone you trust or seen something in a video and wanted to buy it for yourself?
That's why the FTC has guidelines about online disclosures: to keep product endorsements transparent and distinguish between product placement that's paid for, and those which are made without any incentive at all.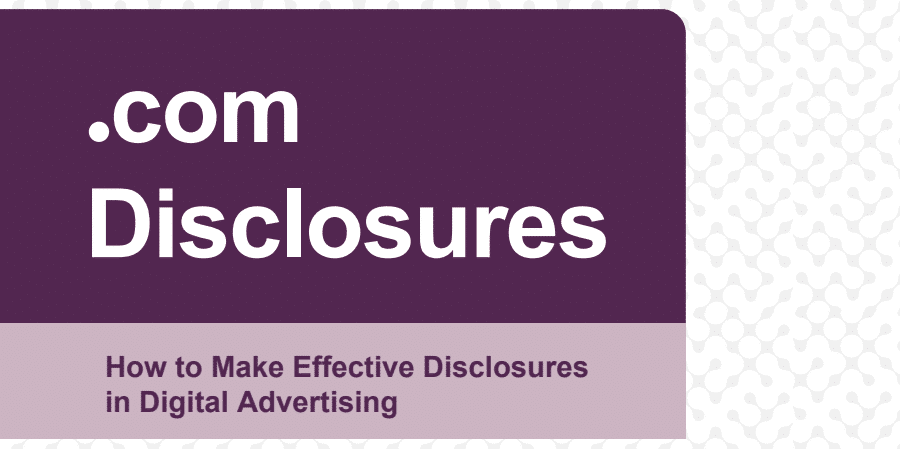 An affiliate disclosure is simply a short notice near a product placement that explains what affiliate marketing is, and that you're being paid to make this recommendation.
It's illegal to not include a disclosure when you use affiliate links or otherwise promote a product after being compensated for it.
These guidelines apply not just to blogs but social media posts, videos, podcasts, and all forms of digital advertising.
Knowing that you've been paid to promote a product, as opposed to recommending it just because you like it, can influence users' decisions to buy. These guidelines are made to protect consumers and keep online marketing transparent.
While these guidelines only apply to the US, other countries like the UK and Canada have similar laws. And though the EU doesn't seem to have a law requiring disclosures, depending on the information you collect from customers, the GDPR may affect your affiliate program (make sure to read our in-depth guide on WordPress GDPR compliance).
Plus, if you join a US-based affiliate program, the guidelines will likely still require you to include disclosures even if you don't live in a country with similar laws. So if you're not sure, it's best to just put one.
How to Write an Affiliate Disclosure
Affiliate disclosures can be written almost any way you want, as long as it does two things:
identifies a link as an affiliate link.
explains what that is and does for you.
That can be as detailed as a full explanation of what affiliate programs entail and why you choose to take these partnerships, or as brief as a one-sentence note identifying the link and saying that you get paid when they click it.
Formatting Your Affiliate Disclosure
You will want to keep the official guidelines in mind, however, especially in regard to formatting. Your disclosure of any links leading to it should be clearly conspicuous and not hidden on the page with very light coloring or tiny unreadable text.

Affiliate disclosure guidelines
1. Make it Easy to Understand
Affiliate disclosures should be written so they're easily understandable. Being overly lengthy or wordy, using language that's difficult to understand, or writing the disclosure in a language your target audience can't read are all unacceptable.
Use plain, clear language. If your disclosure is long, break it up into paragraphs and ensure that it's easy to read (and free of grammar mistakes and/or typos).
2. Don't Make Assumptions
You also shouldn't assume that your target audience knows what affiliate marketing is. Saying that you use affiliate links on your blog isn't enough. It's better to explain how you get a commission when people click your links.
3. Length
As for length, aim for a few sentences in a shorter blurb. Here you should just explain that you get paid for clicks rather than going super in-depth. For a longer notice, 2-5 paragraphs should do it, and you can elaborate a bit more on what affiliate marketing is and your philosophy for using it.
Where to Put an Affiliate Disclosure
Proximity is a very important part of the FTC guidelines. It's not good enough to shove your disclosure on a random page and assume that everyone will see it.
If you want to stay within the boundaries of these guidelines, you need to make sure your disclosure is as close to the link as possible.

For bloggers, there are two acceptable places to put your disclosure: at the very top of the blog post or right above the affiliate link. The latter is more preferable, but either (or both) will work.
Just remember: the closer the disclosure to the link the better and it should also be placed above it rather than below. It's probably okay to include a disclosure above the article itself, but it's less acceptable to put it in the conclusion.
A short blurb will work best within your blog posts. It's also encouraged to write a longer disclosure and create a page dedicated to it. While not necessary, it's a great place to expand on your values and reassure readers that, even if you're being paid for it, you're only endorsing products you actually like.
But keep in mind that only having a disclosure page, or putting it in your terms of service, isn't good enough. If you promote products on your blog, you need to include a notice within the post itself.

You also shouldn't solely place disclosures within your sidebar, as it's easy for people to miss it, especially when they're on mobile devices where the sidebar is hidden or pushed to the bottom.
That goes for your header, footer, or any other place that isn't easily reachable or may disappear on certain devices.
In short: You're free to put an affiliate disclosure in your sidebar, footer, or on its own page to be safe, but you still need to include a short notice in direct proximity to an affiliate link, within the blog post itself.
Affiliate Disclosure Examples
As you're writing your own disclosure, it's a good idea to draw from examples and learn why they work well.
Here are some examples of good affiliate disclosures from across the web.
1. Example: Justine Grey
Here's a great example of a personalized disclosure from Justine Grey, which explains what affiliate links do while adding a bit of personality. A similar notice would do its job at the top of any page containing an affiliate link.
2. Example: WP Superstars
WP Superstars uses several methods, with a full FTC disclosure page that goes into detail about their views on affiliate marketing and how it earns them money, plus notices on pages with affiliate links and in their sidebar.
3. Example: Wandernity
Wandernity uses this notice above all their blog posts. This disclosure is short and sweet, while also reassuring you of their validity despite the presence of affiliate links.
4. Example: CodeinWP
This is a good example of a notice inserted right into the blog content next to an affiliate link. The formatting here makes it very prominent, which is better for staying within FTC guidelines.
Lastly, here are some good examples of longer affiliate disclosure pages from Smart Blogger, Wellness Mama, and Social Media & Coffee. All of these go in-depth into what affiliate marketing is, along with their personal reasons for using them.
How to Write Amazon Affiliate Disclosures
Amazon affiliates use a similar disclosure to indicate that you're being paid by Amazon, but there are a few extra terms involved. According to Amazon Associate's terms, you must include the phrase:
"As an Amazon Associate, I earn from qualifying purchases."
You can also write your own disclosure as long as it says pretty much the same thing, identifying yourself as an Amazon Associate and informing people that you earn a commission if they use your link.
Besides this disclosure, you're not allowed to talk about your role in their affiliate program or otherwise say that Amazon "supports, sponsors, or endorses" you.
If you want to be safe, you can simply copy and paste the quote from their terms of use and include it in blog posts with Amazon affiliate links. Remember that tucking it away in an about or terms of service page isn't good enough, nor is placing it in a sidebar. Put it at the top of the blog post or near the link!
Amazon is very strict about their disclosure policy and won't hesitate to remove you from the program if you're in violation, so make sure the notice is placed prominently and uses similar wording to what they specified.
How to Add an Affiliate Disclosure Page to WordPress
If you're using WordPress, you can add affiliate disclosures in your header, footer, or sidebar, on its own page, and of course in a blog post.
To create an affiliate disclosure page, just go to your WordPress backend and navigate to Pages > Add New. From here you can create a longer affiliate notice and tweak the page as you wish.
If you'd rather add a smaller notice into your header, footer, or sidebar, again log in to your admin dashboard. You can find your header under Appearance > Header, or Appearance > Theme Editor > header.php.
For your footer, look for footer.php in Theme Editor. And your sidebar can be found under Appearance > Widgets where you can then drop a Text widget on the sidebar section.
Or you can check out our guide on how to add code to the header and footer.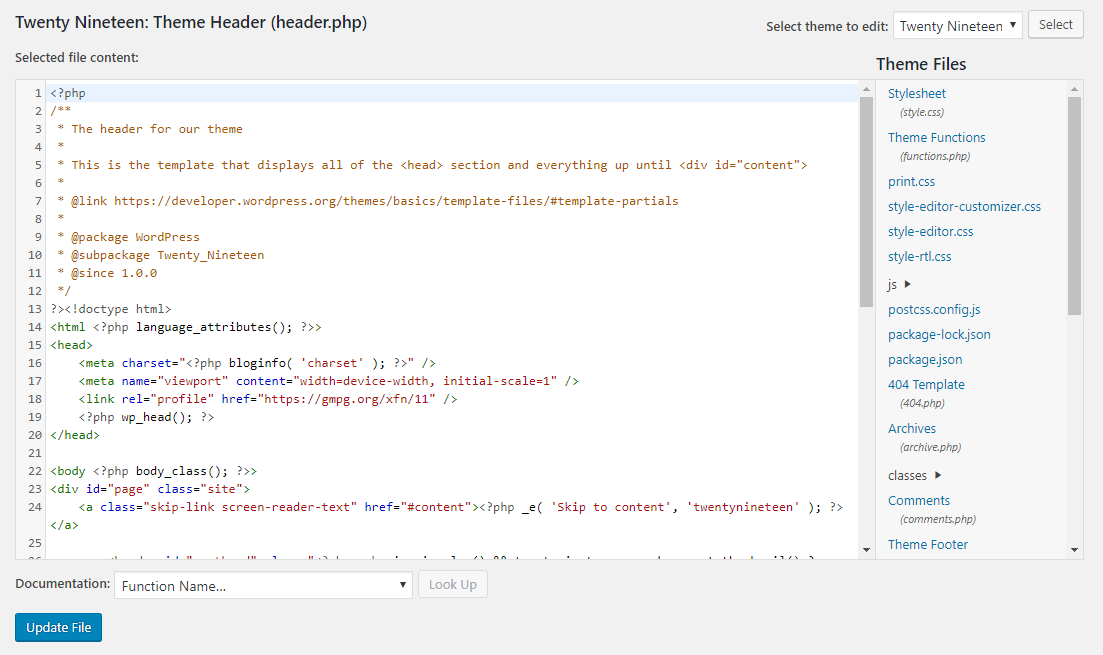 Keep in mind that if your WordPress theme doesn't have a header, footer, or sidebar, you might not see these options. They may also be under a different part of your theme options.
Just remember that while you can add notices all across your site, you'll still need to include a disclosure within every blog post that has an affiliate link. Just putting one in your sidebar or on an affiliate page isn't enough.
Of course, this can be accomplished by manually placing your notice right into a blog post, right above the affiliate link.
But there are also WordPress plugins that can automate this for you, putting a disclosure right at the top of a post without having to paste it in every time.
How to Add an Affiliate Disclosure at the Top of WordPress Blog Posts
If you don't want to place a message next to every link you have, one of the easiest ways to comply with FTC guidelines is to automatically insert an affiliate disclosure at the top of every blog post, or only on the ones that include links.
Here's how to do it step by step.
Step 1: Install the Ad Inserter Plugin
Ad Inserter is a free plugin that lets you insert and manage banner advertising, but it also has the ability to let you create an affiliate disclosure and place it right above your blog content.
To install the plugin, log in to your WordPress dashboard and head over to Plugins > Add New. Search for "ad inserter" and download it, then click Activate to get it working. You could also visit its WordPress plugin page, click Download, and click Upload Plugin on the Add New page instead.

Step 2: Set Up Automatic Affiliate Disclosures
Next, you'll need to go to Plugins > Ad Inserter > Settings where you'll see a row of tabs and a black box named Block 1.
Go ahead and write or paste in your affiliate disclosure. You can use HTML to add links, or change formatting. There's also a CSS box below to change color, size, or placement of text.
Below the text, you should see a box called Automation Insertion. Switch this to "Before Content" to make it appear right above the content of your blog posts.
Now, just click Save Settings and the notice should appear above your posts!
Step 3: Turn off Affiliate Disclosures on Certain Posts
What if you don't want a notice to appear on every single blog post you have?
Back on the Settings page where you just made your disclosure block, click Lists and scroll down.
You can blacklist or whitelist posts based on category, tags, and more. Adding posts using Blacklist will cause the notice to not appear on those pages, while the opposite is true if you choose Whitelist (it will only appear on those pages).

There are many potential solutions here. You could click Post IDs and manually add posts to the blacklist or whitelist as you create them (here's how to find post ids).
Or you could tag your posts with paid links "affiliate", and add that tag to the whitelist. Experiment and see which is easiest for you.
WordPress Affiliate Plugins
Besides plugins like Ad Inserter that can place disclosures at the top of blog posts, there are others out there that can help you manage your affiliate links, automatically add them to posts, or even start your own affiliate program.
Here are a few examples you could try.
Summary
FTC guidelines dictate that paid endorsements must be clearly identified. So if you're a blogger joining an affiliate program, you'll need to follow their guidelines on affiliate disclosure:
Affiliate disclosures must clearly identify affiliate links, and explain what that means for you.
They should be as near to the affiliate link as possible, preferably above them. Place them right before your link, or at the top of your blog post.
Only having a page dedicated to your disclosure, or putting it in your terms of use, isn't good enough.
You also shouldn't solely place disclosures in your header, footer, or sidebar.
Disclosures should be visible on mobile devices as well.
They should be both clear in language and use formatting that makes it conspicuous and easy to read (no light or tiny text).
As long as these guidelines are satisfied, you can write your affiliate disclosures however you want. But remember to consult the official FTC guidelines for yourself.
For non-US affiliate programs, please make sure to check your country-specific regulations, although they probably won't be that much different from those the FTC requires.