If you're a blogger or online business owner, becoming an affiliate marketer is one of the best moves you can make.
With affiliate marketing, businesses can spread the word about their product and boost conversion rates. And by learning how to become an affiliate marketer, bloggers, influencers, and content creators can monetize their web traffic and earn passive income.
Ready to learn more about affiliate marketing?
What Is Affiliate Marketing?
Affiliate marketing is when a customer or user earns a commission by promoting an advertiser or retailer's product. The customer, now known as an "affiliate," receives a payout when they get their audience to achieve what the advertiser wants — usually a sale.
Affiliate marketing programs are an excellent way for bloggers and other content creators to earn passive income by leveraging their audiences to advertise a brand or website.
All affiliates have to do is search for a product they enjoy, promote it, and earn a percentage of profit for each sale they make. Sales are tracked through affiliate links.
Affiliate marketing programs also benefit businesses. According to Rewardful, 15–30% of sales come from referral programs.
Affiliate Relationships
Affiliate marketing involves three prominent people:
Consumer: They're looking to buy a product.
Publisher: Also known as the affiliate marketer, they leverage their audience by recommending products. They earn each time the consumer purchases a product from the advertiser.
Advertiser: Also known as the seller, merchant, or retailer, their goal is to make sales while letting more people know about their product.
Benefits of Affiliate Programs
Now that you know what affiliate marketing is, here are a few reasons why you should learn how to become an affiliate marketer:
Passive income: If you want to know how to make money online, affiliate programs are a quick and inexpensive way to do so without the hassle of selling your product. Unlike a day job that requires you to work before earning money, affiliate marketing empowers you to earn while you sleep. You need to sign up for an affiliate site and set up a campaign. Once that's done, you'll continuously earn money when customers use your affiliate link to buy what you recommend.
Multiple channels: You can earn from affiliate programs through your social media accounts, email lists, and website.
Cost-effective: Affiliate marketing is a low-barrier-entry business. Most affiliate programs don't have signup fees — create an account and start earning.
No expertise needed: You don't need special skills to become an affiliate marketer. Basic knowledge of search engine optimization (SEO) or digital marketing might be helpful, but the beauty of affiliate marketing is that you can learn and test along the way.
Convenience and flexibility: You don't have to stick to one affiliate program — you can create multiple campaigns. You can also work remotely and be your boss.
Drawbacks of Affiliate Programs
While there are many advantages to becoming an affiliate marketer, you should also manage your expectations.
You can't control affiliate marketing programs: You depend on the merchant's rules and conditions. So if you want to earn more, you have to be selective about which partnerships you choose.
Results don't happen overnight: It might take time before your affiliate earnings pick up, especially if you aren't starting with a big following. Just keep improving your posts. Remember: It's a marathon, not a sprint.
No revenue guarantee: Earning passive income from affiliate marketing is possible but not guaranteed. Don't make it a primary source of revenue until you start seeing results.
Competition: Because there's a low barrier to entry, many people sign up to become affiliate marketers.
In most affiliate marketing programs, 10% of affiliates contribute 90% of sales. But don't be discouraged! Learning to become an affiliate marketer is still worthwhile because the affiliate market is enormous. Spending in the U.S. alone is expected to reach over $8 billion in 2022 — almost triple what it was ten years ago.
How Much Do Affiliate Marketers Make?
If you're having second thoughts about learning how to become an affiliate marketer, the income potential may be enough to change your mind.
Typical affiliate earnings can range from $50 to $25,000 per month, but that depends on a lot of factors, such as:
Industry/Niche
Size of the following
Engagement
Of these three factors, engagement matters the most. Brands love micro-influencers because they cost less, are more relatable, and build trust with their audiences.
Another important consideration is choosing and building a niche. By trying to sell to all, you'll likely end up selling to no one.
Need inspiration? Here are some of the top affiliate marketers:
How Does Affiliate Marketing Work?
While there are different affiliate marketing models, the business involves earning affiliate commissions from selling another brand's products.
Affiliate sales are tracked using referral links, which have tracking cookies. These tracking cookies stay on a user's browser for a specified amount of time. That can be as short as a day to as long as a year.
If the user who clicked on the referral link purchases something within the tracking cookie's valid time frame, the affiliate earns a commission.
Here's a flow chart of how affiliate marketing works:
Getting and Tracking Affiliate Links
Affiliate links are used to track your customers' purchases. The way you generate and track affiliate links depends on the affiliate program you choose.
When you sign up for an affiliate network, they take care of affiliate link tracking and generation. That could be another story when you use an in-house affiliate program. Some affiliate programs don't have tracking or reporting tools, while others, like Kinsta, let you track your affiliate traffic.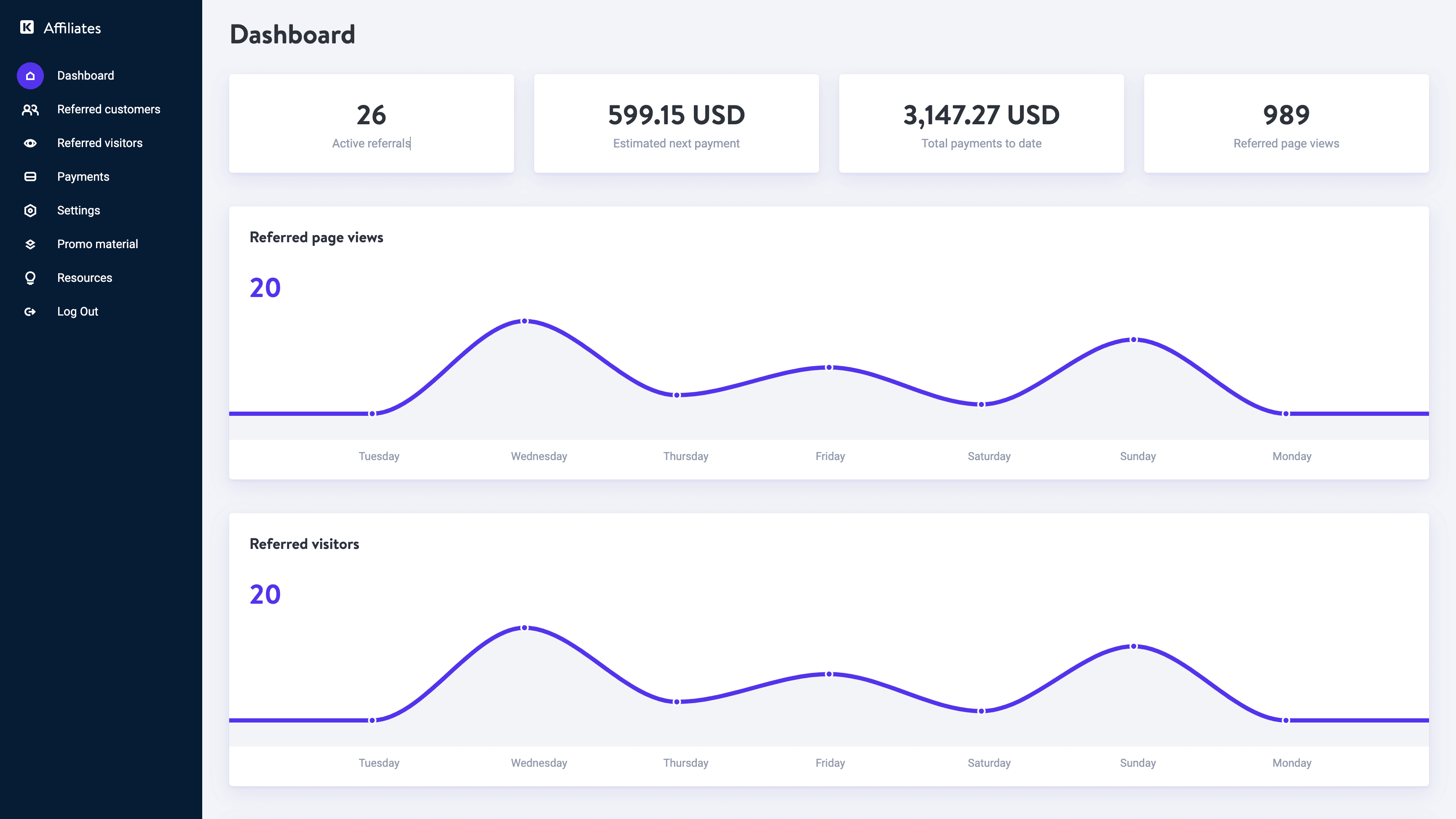 You can use link management software to cloak your affiliate links and learn how to track affiliate links in WordPress.
Getting Paid
Affiliate marketers earn credit when users buy something through their affiliate links. In the affiliate world, this is known as cost-per-action (CPA). It's the most popular way affiliates get paid.
But that's not the only way. You can get paid for other actions, such as:
Cost-per-lead (CPL): You earn when a customer gives you personal details, such as an email address or phone number.
Cost-per-click (CPC): You earn every time a user clicks your link. It works similarly to banner ads.
Cost-per-impression (CPM): You earn for every thousand views. Some ads also work this way.
The type of payout, how much, how often, and what method you get paid depend on the merchant managing the affiliate program. Merchants usually pay their affiliates monthly once they've reached a minimum payout amount. Standard payment methods include PayPal and direct deposit.
How to Become an Affiliate Marketer
Choose a niche
Find the best affiliate programs
Choose a publishing platform
Produce traffic-generating content
Promote your affiliate links
1. Choose a Niche
When you decide to become an affiliate marketer, the first step is choosing a niche.
You can choose one based on popularity, profitability, market demand, or your interests. The best niche would be a combination of all four.
Choosing a niche is vital because it dictates the quality of engagement from your followers. If you don't believe in what you're selling, your followers won't either. And choosing the right niche is crucial because not all of them are profitable.
Our tip: Check whether your interest falls in the most popular affiliate marketing niches. That way, you hit two birds with one stone:
You can be sure it's profitable.
You know the ins and outs of the niche and won't struggle with following trends.
The most popular affiliate niches include:
Health and fitness
Technology
Personal finance
Dating
Blogging and making money online
2. Find the Best Affiliate Programs
After deciding which niche to specialize in, it's time to join affiliate marketing programs.
Affiliates can choose between two types of programs:
1. Affiliate networks: An affiliate network is a midpoint between publishers and merchant affiliate programs. Merchants who sign up can create a program on the platform, while publishers can choose from multiple programs. Affiliate networks are best for beginners because they have almost everything you need for successful affiliate marketing out of the box. They make it easy for users to sign up for multiple programs by having them all on one platform.
They usually charge a commission for convenience, though, so your potential earnings may be less than if you had signed up for multiple in-house programs.
Examples of affiliate networks include Amazon Associates, ShareASale, and ClickBank.
2. In-house programs: Companies can create their in-house affiliate programs. Publishers get more commissions when they sign up for them, but they have to sign up individually to be part of multiple programs.
An example is Kinsta's affiliate program.
High-quality affiliate programs offer high commission rates and extended cookie validity.
With Kinsta's cloud hosting affiliate program, you earn depending on the hosting service referred. For WordPress Hosting referrals, you can earn a bonus between $50 to $500 in commissions for every signup (depending on the plan), along with 10% recurring commissions. For Application Hosting and Database Hosting referrals, you can earn 5% monthly recurring commissions with every signup you make. The recurring commissions from a referred client with multiple hosting services are cumulative. And because we consistently make our clients happy, we have a low churn rate — meaning you bring home consistent income.
3. Choose a Publishing Platform
The best thing about affiliate marketing is that you can do it on any platform.
Like choosing a niche, the key to selecting platforms is to select those you're familiar with. Which do you use and understand the most?
6 Popular Platforms for Affiliate Marketers
Here are the top platforms for affiliate marketers right now:
1. Websites
You can use different mediums to promote affiliate products, but here's why we think creating an affiliate website is the best method:
You own it: You're bound by their terms and conditions when you do affiliate marketing on social networking sites, which means you constantly have to adapt. When you have your website, changes are minimal, and you can do as you please because you own the platform.
You can leverage SEO: Results don't happen overnight with SEO — and that's a good thing. Creating evergreen (timeless) content is a more sustainable way to run your affiliate marketing business. As more people search for your products or keywords, your website will rise to the top of the ranks.
You can create multiple revenue streams: Besides earning from affiliate marketing, you can also make money by selling digital and physical products, creating sponsored posts, or displaying ads.
You can post anything: Websites can handle different content types, but the written word reigns supreme in affiliate marketing.
Ready to start a WordPress website for your affiliate marketing business? Sign up for a Kinsta hosting plan.
2. YouTube
With over 2 billion users worldwide, YouTube is another lucrative platform for affiliate marketing. Besides earning from YouTube ad revenue or selling merchandise, YouTubers also make money from affiliate marketing.
You can place your affiliate links in various places on YouTube, such as the:
Description box.
Pinned comment.
Community posts.
End of the video.
YouTube Cards.
You don't have to have millions of followers. You have to build a YouTube channel and create helpful content.
3. Social Media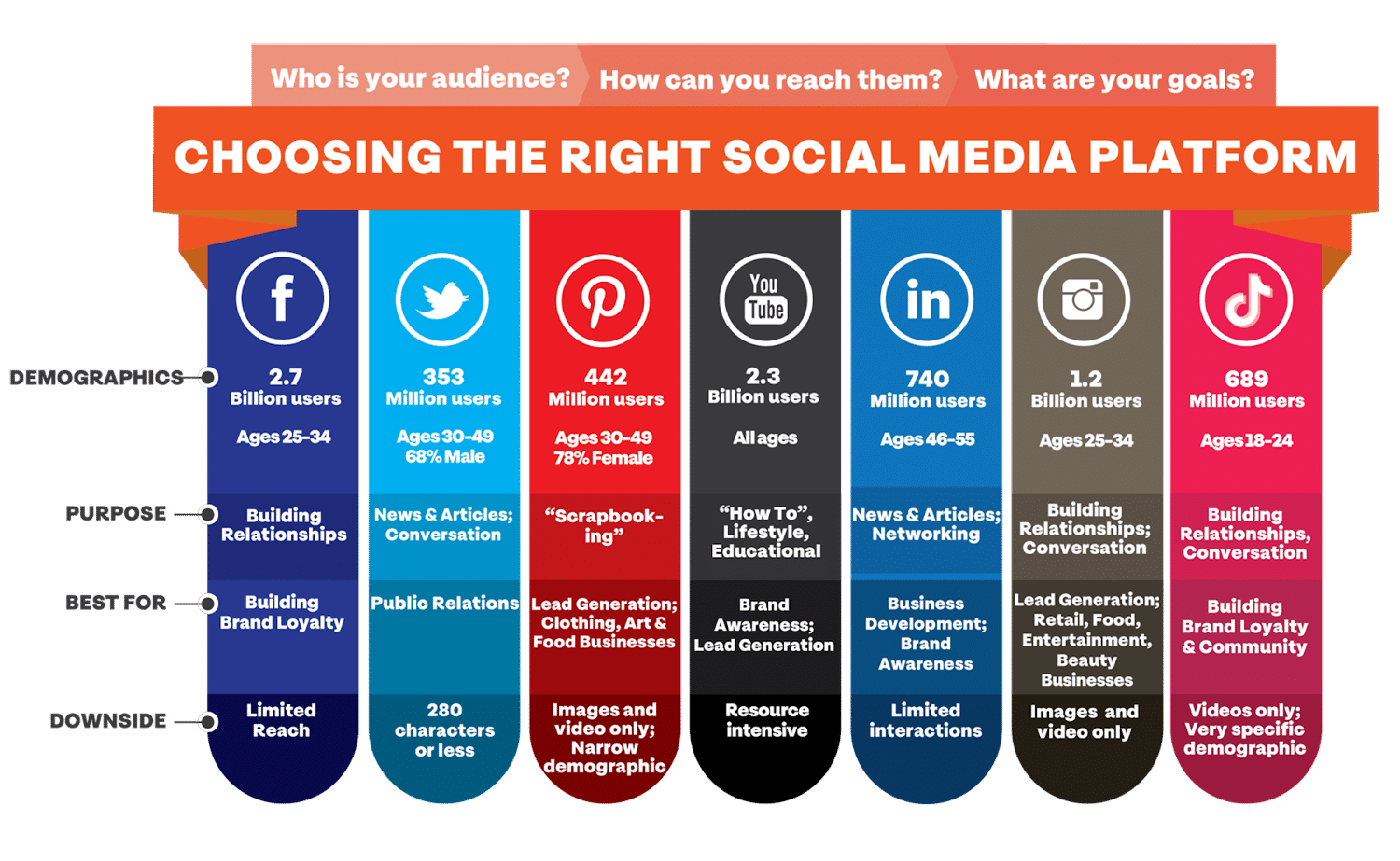 As of October 2021, there are 4.55 billion social media users across different platforms, covering 57.6% of the world's population.
Influencer marketing has empowered content creators to leverage their social media presence to promote products. They earn by posting product links to their Facebook groups, Instagram Stories, tweets, or Pins.
Influencers favor social media because it's convenient, visible, and where their audience is. The only downside is that social media requires you to post frequently because algorithms change and posts have a short shelf-life.
Otherwise, social networks are great platforms for your marketing efforts.
4. Email Newsletters
There are 4 billion active email users in the world today, making it one of the most profitable platforms for affiliate marketing.
Learning to be an affiliate marketer using your email list means unlearning many traditional email marketing best practices. Here, you take a customer's point of view by sharing a solution that helped you instead of selling products.
Follow these best practices for affiliate marketing using email lists:
Segment your email lists.
Check whether your email marketing software allows affiliate links.
Perform A/B testing on campaigns.
5. Podcasts
A podcast is another popular platform that focuses on audio content.
As of 2021, there are 2 million podcasts, over 48 million podcast episodes, and 62 million weekly podcast listeners. People like podcasts because they can listen to them during routine tasks, such as commuting or exercising.
Research shows that 54% of listeners consider buying from a brand when they hear about it on a podcast, which shows how podcasts generate brand interest. Besides creating revenue from sponsorship deals, podcasts are also an excellent opportunity for affiliate marketing.
You can mention affiliates in the episode and post affiliate links on your show notes and social media.
6. A Combination of Each
Chances are, you use more than one of these platforms. For best results, why not post your affiliate link across all platforms? That way, you can track which platforms your affiliate links perform best.
4. Produce Traffic-Generating Content
The phrase "content is king" rings true for marketing. People won't visit your channels if you don't provide valuable content.
Here are a few content ideas to consider while learning to become an affiliate marketer.
Written Content
How-to guides
Product reviews
Product comparisons
Best products lists
Ebooks
Tutorials
Listicles
Case studies
Video Content
Hauls
Unboxing videos
Product reviews
Product try-ons
Tutorials
Top X lists
5. Promote Your Affiliate Links
After you've created content using your affiliate links, it's time to get more people to see it.
Here are some content marketing tips to bolster your affiliate marketing strategy:
Attract customers with sales, deals, and coupons.
Post on forums and question-and-answer websites like Reddit and Quora.
Post on social media
Use affiliate banners on your website.
Use Facebook ads and PPC marketing.
Next Steps: Maximizing Affiliate Earnings
Now that you've learned the basics of affiliate marketing, take note of these tips to maximize your affiliate earnings:
Only promote brands you believe in: Integrity is essential. Customers can tell when you're just trying to make money.
Build a relationship with your audience so you can instill trust: Don't try to sell right away.
Be transparent: Let your audience know that you earn something by promoting the company's product.
Create quality content: Helpful content is the type that resonates the most with customers.
Summary
Learning how to become an affiliate marketer is a straightforward way to monetize your content and earn passive income. With the right partnerships, marketing tools, and strategy, you can make money while sharing the products you love with an engaged audience.
Do you enjoy Kinsta's services? Sign up for Kinsta's affiliate marketing program and start earning today.