Power your WordPress website with premium hosting features
Get a fast and secure website backed by a premium infrastructure. Kinsta's industry-leading integrations and developer-friendly features deliver incredible value and results. Time and money saved on your end. Learn about Kinsta's features below, or test them for yourself now.
Your enterprise partner for large-scale needs
Top-tier infrastructure with a global presence
Custom plans with dedicated virtual machines, additional PHP workers, and reverse proxy
Cloudflare enterprise-grade protection
24/7 support from experts
To avoid downtime, security issues, and slow page loading speeds, Hardbacon hired Kinsta as their "secret weapon". Read this post to learn more.
Reading time

5 min read

Publish date

September 23, 2021
Grow your agency with Kinsta
Unlimited free migrations
Free hosting for your agency site
White-labelled Clear Cache plugin
Competitive pricing for bulk hosting
Reseller and affiliate programs
Listing in our Agency Directory
Boost your revenue with faster hosting
Get better search engine rankings with a faster site
Server-level caching and HTTP/3-enabled CDN
Protect your store and reputation with firewall and DDoS protection from Cloudflare
Scale visits, disk space, and CDN for high-traffic seasons
Kinsta's helped DARTDrones scale its WooCommerce site to stay online and survive the "Shark Tank effect" — 1.2 million requests in 6 hours.
Reading time

4 min read

Publish date

November 20, 2017
Grow a global audience with Kinsta
Better search ranking with improved site speed
Automated and on-demand backups
Fast Content Delivery Network with a presence in 200+ cities
Easy-to-manage MyKinsta hosting dashboard
A faster site, a support team that provides useful insights, and a cheaper plan. Find out what else motivated Ryan Robinson to choose Kinsta.
Reading time

3 min read

Publish date

September 17, 2021
Hosting technology built for developers
Ubuntu, PHP 8.2, Nginx, HTTP/3, and MariaDB, so your sites will be able to handle high traffic spikes with ease.
Kinsta APM for troubleshooting your code
DevKinsta local development integration
Selective push from staging to control your development workflows
Barn2 Media started experiencing instability and downtime with their WordPress host. They moved their clients to Kinsta and saw better uptime and s…
Reading time

6 min read

Publish date

June 25, 2019
Build your business on a solid foundation
Uptime monitoring and proactive security
Peace of mind with automated backups and 24/7 expert support
Automated plugin and theme management so you can save time
Free migrations and 30-day money-back guarantee
Pipe Wrench is an online magazine that needed to find a way to deal with massive traffic spikes without worrying about their site going down.
Reading time

3 min read

Publish date

December 2, 2021
A great experience for your site members
Advanced hosting infrastructure for a great end-user experience
Compatible with Multisite, BuddyPress, bbPress, and more WordPress plugins
Extra disk space, PHP workers, and more are available as add-ons
Detailed analytics including bandwidth, CDN usage and insights, cache HIT and MISS ratio, and performance data
Advanced hosting for multisite instances
35 data centers to choose from and a CDN with 200+ PoP.
Seamless site management with the intuitive MyKinsta dashboard
One-click migration and environment cloning
Multi-site domain mapping and multi-user management
Dependable hosting for learning institutions
Dependable hosting for learning institutions
Easy-to-scale infrastructure and flexible plans
Multi-user access and site management tools
Special discount for non-profit organizations
Fast hosting for teachers and coaches
Fast hosting for a great student experience
Powerful add-ons for scaling site needs
Compatible with a multitude of WordPress LMS plugins
Detailed analytics and resource management
PHLEARN saw degrading performance and support with their old host. After moving to Kinsta, they found more than just a vendor, they found a hosting…
Reading time

4 min read

Publish date

April 22, 2019
Great hosting for great causes
Special 15% discount for registered charities
Safe and secure hosting with automated backups
Easy team collaboration and site management
24/7 support you can count on
Kinsta's support team is A+. Every time we have an issue they are on it and it is resolved within minutes. Kinsta was easy to setup and migrate to. We love the production/stage separations, CDN capability with just touch of a button and insightful analytics.
The backend tools are spot on the money, and they have a number of little time-saving automations such as search and replace for the database, amazingly quick backups, forcing HTTPS at the server level, and a bunch of others that obviate the need to use plugins.
Kinsta APM makes it easy to optimize our website. It supplies us with information about resource-heavy plugins and bottlenecks in the database and website codebase.
Just enabled Kinsta's new APM performance monitoring tool on a client website to take it for a spin. Kinsta just keeps getting better!! Included in all plans for free
From day one Kinsta has provided us with a premium managed hosting solution; with new features being added regularly that continue to save us time, and ultimately money. It's allowed us to continue to increase our client base without any degradation to the service our existing clients receive. We look forward to continuing to grow as an agency, alongside Kinsta as a valued partner, for many years to come.
Grow your business with the features included free of charge in every plan
We know you won't find this winning combination of features with our competitors. If you're curious, check out our cost/benefit ratio.
Speed

:

Improve your website's performance with the fastest infrastructure

Built on Google Cloud Platform's premium tier network and fastest C2 virtual machines. Designed to minimize distance and hops, resulting in fast and secure transport of your data.

Our customers see up to 200% in performance improvements, 30% improved latency or 50% better bandwidth.
Security

:

Sleep easy knowing your sites are monitored and secured 24/7

A SLA backed 99.9% uptime guarantee and hack free guarantee
Support

:

24/7/365 real-human chat is 30 seconds away

Access our single-tier support system straight from MyKinsta. Available all day, every day (including weekends and holidays).

In the past 5 years 97% of all support inquiries are solved with customers happy and satisfied
Scalability

:

Hosting and scaling a WordPress site the right way has never been easy. Until now.

Server resources can scale up or down as needed thanks to state-of-the-art, privately designed hosting configuration.

We handle 1-billion combined visitors and 7-billion combined page views a day with absolute stability and uptime.
Site Management

:

Save time on repetitive site management tasks

Manage your sites with MyKinsta, a dashboard that prioritizes performance and security
Additional Tools

:

Further Reasons Why You'll Love Kinsta

Hint? You'll have total control over your sites!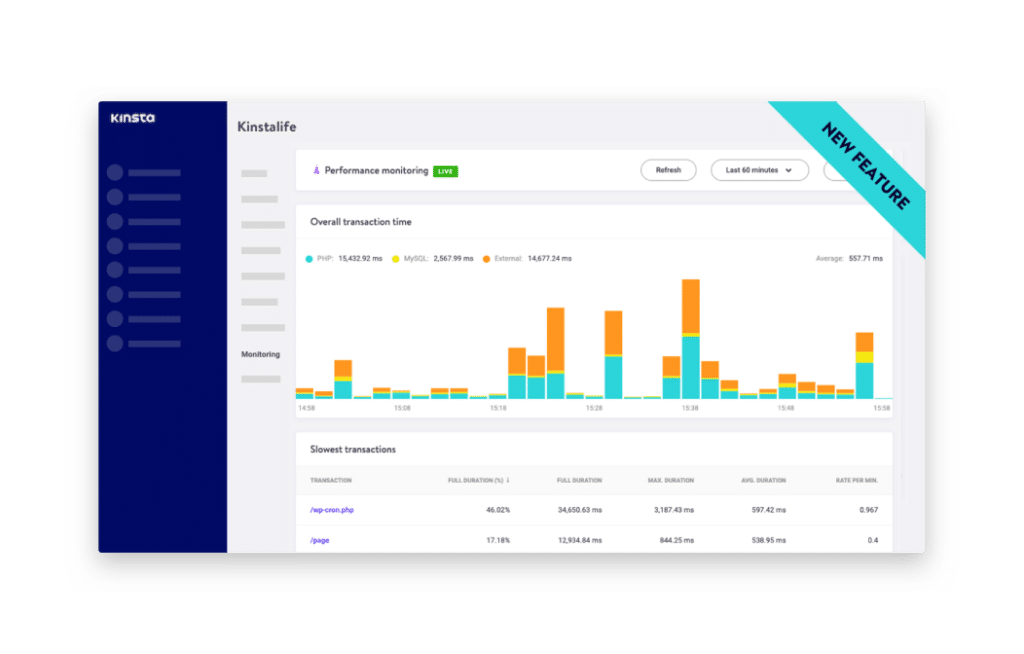 Reduce WordPress debugging to minutes with Kinsta APM
Say goodbye to spending hours debugging performance issues (or spending money on a developer to assist). Our in-house application monitoring tool can spot bottlenecks in minutes. Easy to understand and free with every plan.
Migrate your site for free
Enjoy a stress-free moving day with our unlimited free basic migrations handled by our dedicated migrations team. With our 30-day money-back guarantee, you'll have a month to test us out risk free.
DevKinsta for local development
Design, develop, and deploy WordPress sites from the comfort of your local machine. Used by more than 45300 developers, web designers, and freelancers.
A hosting stack that goes beyond expectations
With all your tools in one place and a team of 200+ knowledgeable and friendly support engineers just a click away, Kinsta is the next home of your beloved WordPress site. Save time and money by offloading hosting-related tasks you shouldn't be doing anyway.
Take advantage of our 30-day money-back guarantee and free migrations to test us out risk-free today.
| With Kinsta | Without Kinsta |
| --- | --- |
| Premium Tier Google Cloud Platform | Manage and pay for your own server configurations |
| C2 machines on all plans | Pay extra for the best VMs or settle for lower-performance |
| Cloudflare Enterprise-level protection included | Pay for your own Cloudflare Enterprise account (over US$200) |
| Kinsta's Application Performance Monitoring (APM) tool | Pay extra for New Relic's application performance monitoring or pay for a developer to troubleshoot for you |
| Free SSL certificates | Add-on SSL certificates |
| Free automatic backups | Paying extra for a security and backup service |
| Kinsta's expert 24/7 support | Hours of troubleshooting |
| Up-to-date software | Perform sysadmin tasks and update Nginx, PHP, MariaDB on your own |
| Regular uptime checks | Setup website monitoring and have a recovery plan |
| Server-level caching | Find the best caching solution for your site |
| Free staging environment | Set up a staging environment on your own |
| MyKinsta website management dashboard | Need third-party hosting control panel to get all the features you want. Install extra plugins to perform simple tasks (redirects, geolocation, search and replace). Optimize your MySQL database manually on an ongoing basis. |
| Seamless integration with DevKinsta, our free local development application | Extra steps when deploying local development projects |
We love you, you love Kinsta ♥️
Kinsta provides peerless WordPress depth-of-knowledge and expertise for our multiple sites; some of which have high-bursting event traffic and many of which are of a considerably complex nature. Customer service is first-rate; we always receive a quick answer regarding the best configurations – from plugins to firewalls and CDN setup. We consider the Kinsta team a part of our team.
Kinsta is hands down the best platform to host your WordPress site(s). It does everything right, you get all the benefits of a modern cloud provider without the learning curve. I was especially amazed how well the architecture was built, the use of containers as well as other modern security features. Clearly the team at Kinsta knows what they are doing. Strong buy!
Kinsta has excellent support, solid infrastructure, and reliable uptime. Most problems I've faced on my website have been due to my own inexperience—but even then, Kinsta support staff were ALWAYS around to save my bacon. They've been a pleasure to work with and I highly recommend them.
I came from GoDaddy and from development to production, the speed is extremely noticeable. The dashboard is great, the added tools like cache and CDN are great. I am very happy and the price is completely reasonable. Excited to have all projects hosted here.
We don't need to worry about hosting and downtime anymore. Before moving to Kinsta we needed to think about speed, efficiency and how we are going to deploy our stuff. But not anymore, Kinsta does everything for us.
Contact us!
Talk to Sales to discuss your hosting needs and find the Kinsta plan that's right for you.
Or reach out to us and we'll get back to you within one business day.
Ready to go?
Our plans encompass starter to enterprise-level solutions. Find what fits your business risk-free with our 30-day money-back guarantee.
Starter
starting from
$24
USD
month
billed annually
WordPress Installs

1 WordPress install

Monthly Visits

25,000 visits

Storage Space

10GB Storage

Free CDN

100GB CDN

Free Premium Migrations

1 premium migration

PHP Workers

2 PHP workers

Backup Retention

14 days backup retention
Signup
Business 1
starting from
$77
USD
month
billed annually
WordPress Installs

5 WordPress installs

Monthly Visits

100,000 visits

Storage Space

30GB Storage

Free CDN

400GB CDN

Free Premium Migrations

3 premium migrations

PHP Workers

4 PHP workers/site

Backup Retention

14 days backup retention
Signup
Agency 1
starting from
$227
USD
month
billed annually
WordPress Installs

20 WordPress installs

Monthly Visits

400,000 visits

Storage Space

50GB Storage

PHP Workers

6 PHP workers/site

Free CDN

800GB CDN

Free Premium Migrations

unlimited premium migrations

Backup Retention

30 days backup retention
Enterprise 1
starting from
$450
USD
month
billed annually
WordPress Installs

60 WordPress installs

Monthly Visits

1,000,000 visits

Storage Space

100GB Storage

Free CDN

2000GB CDN

Free Premium Migrations

5 premium migrations

PHP Workers

8 PHP workers/site

Backup Retention

30 days backup retention
Signup