One of the exciting things we get to do here at Kinsta is work with all sorts of new cutting-edge companies. Recently we had the pleasure of working with DARTDrones, who provide hands-on expert drone training and Part 107 drone pilot certification across 40 different cities in the United States. Today we'll dive into how we helped them prepare and scale a WooCommerce site for what some call the "Shark Tank Effect." They were very successful and scored a deal with Mark Cuban for $300,000.
The last thing you want to happen is to go live on national television, get a surge of traffic, and have your website crash! Thankfully this is our specialty here at Kinsta due to our scalable cloud infrastructure and experience working with high-traffic and demanding sites.
Snapshot
Industry: Education
Company Size: 11-50
The Problem
DARTDrones needed to ensure uptime for its website during a product feature on Shark Tank, a television show that routinely attracts over 3 million viewers!
The "Shark Tank Effect" is very real, and even a lot of companies that don't score a deal with the sharks end up with an enormous amount of traffic and exposure simply from being on the show. The SharkTankPodcast experts believe that an appearance on the show is worth $4 million to $5 million alone in marketing exposure. Many entrepreneurs have learned the hard way, such as Tomer Alpert, co-founder of Felt, who saw huge traffic spikes immediately upon airing, with more than 10,000 people suddenly in his company's app simultaneously.
The Solution
DARTDrones took advantage of the Kinsta platform to prepare for the "Shark Tank Effect," ramping up infrastructure for its site and optimizing WordPress to increase performance.
Here are a couple of specific things that helped DARTDrones achieve 100% up-time and an enjoyable experience for those new customers after migrating to Kinsta:
Isolating dartdrones.com: First of all, this is how our infrastructure is set up to work from the very beginning. We use Linux containers on top of Google Cloud Platform, which enables us to completely isolate not just each account, but each separate WordPress site.
Scaling CPUs: Utilizing Google Compute Engine, a Kinsta site's container can scale to as many CPUs as needed when there's a surge of traffic. That ensured that DARTDrones would stay online.
Increasing PHP Workers: PHP workers execute the code on a WordPress site. Having additional PHP workers allow for multiple requests to execute simultaneously. To put it simply, the more PHP workers you have the better! We have different plans here at Kinsta and we worked with DARTDrones to find the right one that would suit its needs based on current traffic and estimations for additional load due to Shark Tank.
Troubleshooting and Fixing WordPress Bottlenecks: Many WordPress sites — even smaller ones — have issues with heavy admin-ajax.php usage, and the DARTDrones website suffered from this problem. Also, WooCommerce was causing a lot of uncacheable requests due to cart fragments. (Current Kinsta customers can identify some of these same PHP bottlenecks using our exclusive APM tool.)
The Result
Kinsta's high performance hosting and extra optimizations reduced page load time by 50%. DARTDrones was able to serve over 1 million pageviews in a 6 hour period with zero downtime, and managed to secure $300,000 in funding from Mark Cuban! After the Shark Tank premiere, DARTDrones went on to double the size of the company and expand to over 48 cities.
A good web host should help you find a combination that works the best for you. All in all, we were able to reduce DARTDrones' total page-load times by over 50% across its entire site!
Here is a little glimpse of what happens when you're on Shark Tank. You can see below that data transfer and unique visits skyrocketed right around 8PM ET (shown in EU below). In the heavy 6 hour period after airing there was a total of 1,263,233 requests with 2 TB cached bandwidth used, and only 3 GB of un-cached bandwidth. This shows the importance of strategically looking at your site to ensure as many requests are cached as possible.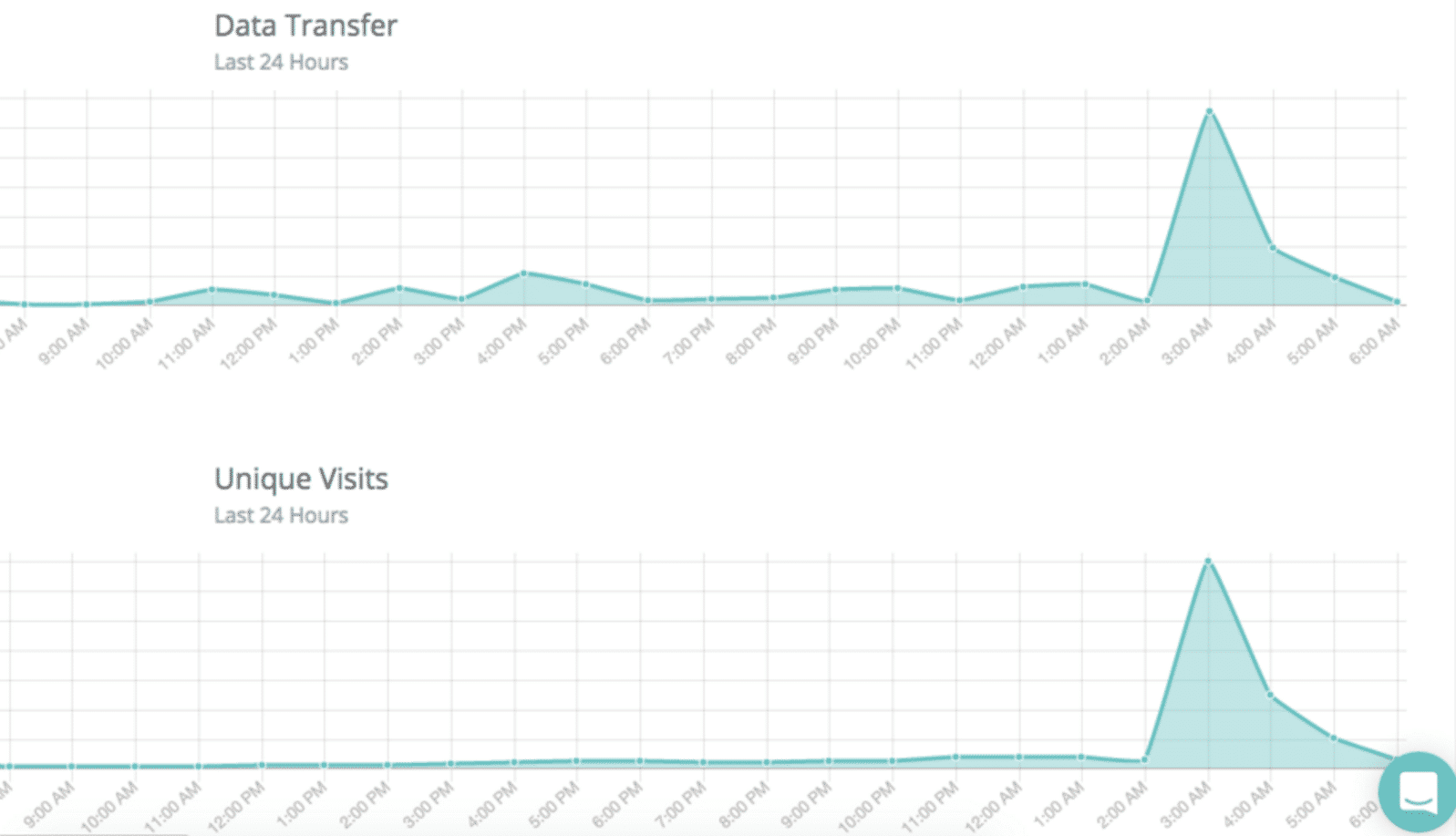 We Scale For You
These are just a couple ways Kinsta helped DARTDrones scale its WooCommerce site to ensure 100% uptime and a flawless experience for its customers during the "Shark Tank Effect." Each WordPress site is different and we always love a new challenge! Hosting is an investment, and it is crucial that you stay online during your peak sales periods. If you are needing help to scale your WordPress site, contact us today to see how we can help.
"Thanks Kinsta for all of your flexibility helping DARTdrones prepare for the ABC Shark Tank traffic. Also decreased page load times site-wide by 50%+." – Kevin McAloon, Designer & Frontend Developer, DARTDrones