Hostinger Alternative: The Benefits of Choosing Kinsta
If you're looking for a Hostinger alternative that offers greater speed, stability, and scalability, you're in the right place! Kinsta is an enterprise-grade managed WordPress hosting provider, powered by the 'premium-tier' Google Cloud platform. Let's show you why Kinsta is the best Hostinger alternative you'll find!
Introduction
A host offering WordPress-specific plans is always going to have similarities to the competition. However, while its specifications, features, and functionality could compare favorably on paper, parity is another issue. Hostinger is a general hosting provider that – unlike Kinsta – isn't geared to tackle dynamic sites (such as WooCommerce stores) or enterprise-level deployment.
In fact, Hostinger targets beginner users and hobbyist bloggers who want more from their free host. It also captures a lot of cost-conscious businesses, given the low pricing. 
At Kinsta, we hear from many site owners looking to find a suitable Hostinger alternative, and searching for a better home for their business or ecommerce websites.
Over the next few sections, we'll compare Kinsta and Hostinger. Our breakdown will show that Kinsta hosting is unlike other solutions. You'll also discover the features that positions Kinsta as the top choice for managed WordPress hosting.
How Kinsta Compares to Hostinger in a Nutshell
This page will take a deep dive into what makes Kinsta the best managed WordPress hosting compared to Hostinger. Before this, let's take an all-around look at the key differences.
Kinsta leverages the Google Cloud Platform, and was the first host to be exclusively powered by it. The platinum-level, premium-tier service offered by Google lets us maximize speed, security, and performance across each site on the network.
Leading software review and comparison site G2 have also placed Kinsta as the highest-rated managed WordPress host. We're proud of the standing, and constantly strive to top the achievement through stellar service:
Enjoy a Blazing Fast Website by Moving to Kinsta
How is this possible? Our customers enjoy:
Migrate from Hostinger to Kinsta hassle free with our free expert migration service. With our 30-day money-back guarantee, you can test out the service and improved speeds completely risk-free. You only lose if you don't give this a try!
Here are some other key difference between Kinsta and Hostinger:
Kinsta is a specialized managed WordPress host, recommended by Google Cloud, using state of the art technology. There are ten plans suiting a range of budgets and use cases. In comparison, Hostinger offers four WordPress-specific plans, mostly focused on the needs of first-time site owners.
You're able to choose from seven different data centers with Hostinger. However, Kinsta lets you choose one of 35 regional data centers from the Google Cloud Platform.
Kinsta offers a free Cloudflare integration. This means all sites on our infrastructure are protected by Cloudflare's firewall with free DDoS protection at no additional cost.
Kinsta provides Secure Shell (SSH) access on all plans, whereas Hostinger doesn't offer this on its lowest tier. What's more, Kinsta supports "secure tunneling" into your databases.
Developers will have a smooth experience on Kinsta. Every plan is able to utilize Git, Composer, and WP-CLI to create the perfect development environment. Site staging is provided as standard with all plans, unlike Hostinger, which offers a WordPress Staging Tool that clones your production environment into a subfolder only on Business plans and above.
Kinsta offers a Content Delivery Network (CDN) – called Kinsta CDN – powered by Cloudflare on all plans. However, Hostinger only provides a CDN on higher tiers.
Kinsta's Google Cloud infrastructure is fast and secure, either through its global-tier network, or cutting-edge Virtual Machines (VMs). Hostinger, on the other hand, doesn't provide any public-facing information that provides detailed information about their hosting infrastructure.
When it comes to bandwidth, Kinsta almost starts where Hostinger ends. Kinsta's server architecture can support millions of site visits per month. Hostinger states it can handle roughly 300,000 visits per month on its highest tier.
Kinsta's databases are self-healing (through monitoring and resolving PHP issues), and self-optimizing. Hostinger offers no optimization of your database, or any PHP monitoring.
Kinsta monitors your website 720 times a day to make sure it's always up and running.
All Kinsta plans offer automatic daily backups, along with the option to manually back up your data. On the other hand, Hostinger offers backup options based on the plan you're choosing. Specifically, Hostinger offers weekly backups on their lower-tier plans and on all VPS hosting; daily backups are offered only if you choose Business plan, Business WordPress, WordPress Pro, Business Web Hosting, Cloud hosting, or Hostinger Pro plans. As for manual backups, Hostinger provides "manual live snapshots" only on their VPS hosting.
Kinsta provides a plethora of tools to monitor the performance of your sites through the free Application Performance Manager (APM). Hostinger doesn't offer this service, so you'd need to purchase a third-party solution.
There are two levels of caching for all Kinsta sites: At the server-level and through a dedicated, in-house developed plugin. Hostinger only provides optimization for the LiteSpeed Cache WordPress plugin.
The MyKinsta dashboard is custom-made for your account, and lets you access practically all of the features you need to manage and monitor your network. 
Kinsta provides a local development tool to help create your site and keep resource usage to a minimum. DevKinsta lets you connect to your Kinsta account and deploy your site within seconds. Hostinger offers no such solution or functionality.
With Kinsta, you're able to request human-driven site migrations from all manner of other hosts.
What's more, we also use the open source MariaDB database format, server-side custom caching, and HTTP/2 protocols for lightning-fast hosting. For sudden traffic spikes, Kinsta's scalable infrastructure beats out practically all other hosting providers, including Hostinger.
Kinsta is Built for Performance and Scalability
The core fundamentals of Kinsta hosting are to provide fast, accessible, hosting as standard. We're not confined to a certain type of hosting, and we don't offer 'shared' hosting.
Our platform is custom-built to offer speed and a scalable infrastructure. Regardless of whether you're a blogger looking for hits, or an enterprise wanting to grow your global market share, we've got you covered.
It begins with the Google Cloud Platform, which powers every Kinsta site with top of the line performance and service. Each machine utilizes up to 60 processors and hundreds of Gigabytes (GB) of RAM, offering a 200% performance boost over previous iterations. The Google Cloud premium-tier is highly-reliable, even compared to Google Cloud's standard-tier offering.
As part of our Cloudflare integration, Edge Caching saves your Kinsta site/page cache to any of Cloudflare's global network of 260+ data centers.
Edge Caching is included free with all Kinsta plans, doesn't require a separate plugin, and cuts the time needed to serve cached WordPress HTML by an average of more than 50%!
Kinsta has allowed us to offer a bulletproof service to our top tier clients and keep them happy. Especially those who have traffic spikes with sudden server demand.
Because Kinsta uses Linux Daemon (LXD) hosts and Linux Command-Line (LXC) software containers, each site on our network is self-contained. Practically all of the software stack is modern and 100 percent private to your installation:
The Linux Operating System (OS) – an industry-standard OS for optimal server performance.
Enterprise-grade Nginx servers utilizing a reverse proxy that lets you load WordPress from a subdirectory, while simultaneously loading your main site.
MySQL databases that aren't hosted on a remote server, making server latency minimal.
Your choice of PHP version (8.0–8.1), offering immense speed and performance gains regardless of the version.
What's more, we also use the open source MariaDB database format, server-side custom caching, and HTTP/2 protocols for lightning-fast hosting. For sudden traffic spikes, Kinsta's scalable infrastructure beats out practically all other hosting providers, including Hostinger.
Uncover your WordPress Site's Performance Bottlenecks.
Our experts will run a free performance audit of your website and share the results within 24 hours.
MyKinsta: A Custom-Built Dashboard for Powerful Site Management
Hostinger uses a branded version of cPanel, the popular hosting dashboard found on many other hosts. At Kinsta, we have always wanted to provide a better solution for users, tailored to the service we provide. The MyKinsta dashboard ticks all of the boxes, and is custom-built for WordPress site management on our platform: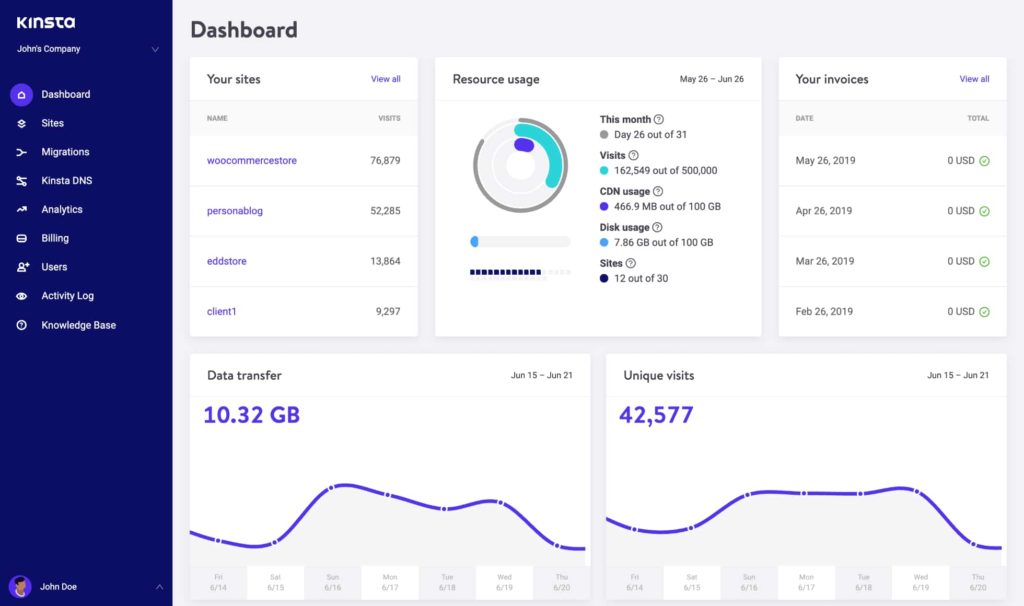 Here are just a few reasons why MyKinsta is a better option than cPanel, other open source platforms, or premium hosting dashboards:
You can switch between PHP 8.0, 8.1, 8.2 to let you match or compare against deployment and production servers.
There's instant site restoration, with the ability to choose a previous backup from at least a two-week history.
We offer a "one-click" CDN setup, to help serve your site across the globe, without a performance hit.
Practically instant SSL certificate assignment, whether that's using a free Cloudflare certificate or your own third-party solution.
The ability to deploy one-click staging, and restore backups either to your live or staging environments.
Access to our free APM tool, to keep tabs on your server performance.
Slick site analytics and other metrics, direct to the dashboard with practically faultless accuracy. It covers resource usage, bandwidth, CDN usage, cache rates, and much more.
MyKinsta includes database administration tools, such as phpMyAdmin for your entire network of sites.
There are WordPress debugging tools available to help you pinpoint potential issues with your installation's code.
You can block IP addresses in a flash, direct from the dashboard.
We provide an option to easily transfer sites between accounts.
A choice of ten languages for non-English speakers – MyKinsta's multilingual support is second to none.
We love getting feedback at Kinsta, even more so when we use it to improve our products and services. You'll find regular innovations inspired by user feedback throughout the MyKinsta dashboard, and we're always open to investigating new ways to make your experience better.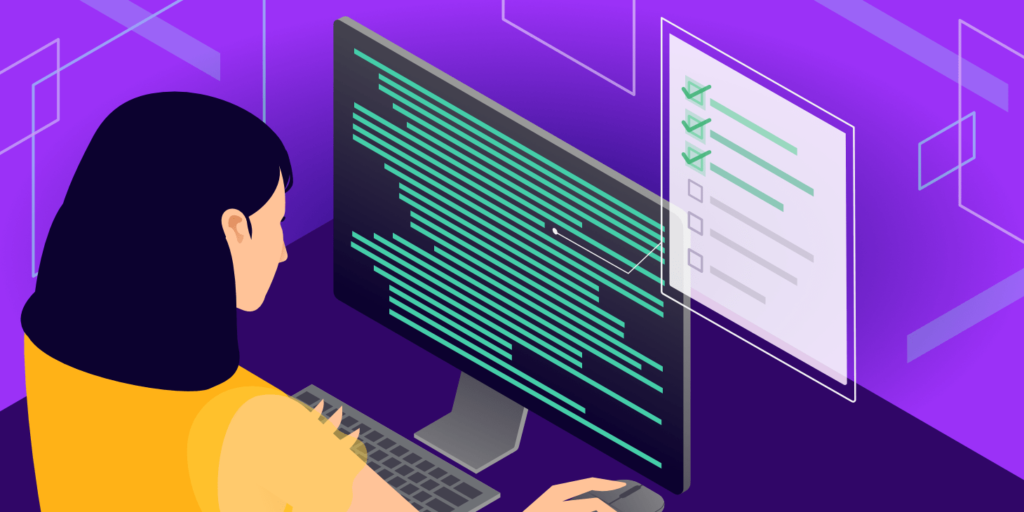 Kinsta is Developer-Friendly
Kinsta was created for professional WordPress development, and much of our team is made up of developers. This is why we've created a core experience that is developer-friendly, and includes features and functionality with website creation and administration in mind.
With other hosting providers, Hostinger included, you won't get the expansive collection of tools and services that Kinsta offers. Here are just a few reasons why you'll love to develop WordPress websites on Kinsta:
You get SSH access, Git integration, Composer access, and the WP-CLI on all plans. Hostinger provides these on all plans except the entry-level one.
Staging environments for every site you run. Restored sites can be pushed live or to a staging environment of your choice.
Our Nginx servers operate using a reverse proxy. This means you can load a WordPress root site and subdirectory at the same time without overly affecting performance.
There's flexible selection of your PHP version, and you're able to run different versions on your production and staging servers.
Critical files (such as wp-config.php) are unrestricted, giving you full access to your sites when you need it.
Your database is 100 percent private, hosted locally within the site's isolated container, and can be accessed using phpMyAdmin.
We provide add-ons such as Redis for blazing-fast database performance, and the ability to use custom Bedrock and Trellis setups.
There are a few more developer-friendly features worth mentioning. In comparison to Hostinger's basic DNS Zone Editor and Cloudflare DNS, Kinsta utilizes Amazon's Route 53 premium DNS. This gives you rock-solid uptime, speedy lookup times, and stability through the Anycast network.
What's more, we only offer Secure File Transfer Protocol (SFTP) access to the server, compared to the less-secure standard FTP offered by Hostinger.
On the whole, Kinsta is a managed WordPress host ready for both small- and large-scale development work. We don't impose limits and restrictions on your server or files, and give you the tools to achieve success with your client's sites.
Free Performance Monitoring Tool
WordPress is a dynamic CMS, which means it's constantly executing PHP code in the background. Depending on your theme and plugin configuration, it's possible for your site to get bogged down with bloated and inefficient code.
That's where APM (Application Performance Monitoring) tools can help. An APM monitors requests to your site, and tracks various metrics like external API requests, database queries, PHP execution time, and more. This information allows you to quickly debug and troubleshoot performance bottlenecks.
All Kinsta plans come with a free custom-built APM tool that can be easily accessed right in the MyKinsta dashboard. Kinsta APM provides you with key WordPress performance insights without the need for expensive third-party subscriptions to other APM services.
With Kinsta APM, you can debug the following and more:
Slow WordPress plugins and themes.
Long calls to external APIs and domains.
Unoptimized MySQL database queries.
Hostinger plans do not come with a free APM tool, and there is no option to install a third-party monitoring tool like New Relic. This makes it very difficult to quickly troubleshoot performance issues on your WordPress site.
Develop Locally with DevKinsta
For developers and agencies, Kinsta offers a simple to use (but powerful) local development tool called DevKinsta. With DevKinsta, you can launch WordPress sites with a full hosting stack and SSL support on your local computer with just a few clicks.
DevKinsta is fully integrated with MyKinsta and Kinsta's hosting platform, which means you can develop locally and push updates directly to a staging environment on Kinsta! Hostinger doesn't have an integration with a local WordPress development tool, which means there is no way to clone and push WordPress sites for Hostinger customers. If you're a busy freelance or agency developer, DevKinsta's advanced features and MyKinsta integration can be a huge time saver.
Kinsta Has a Global Presence
Hostinger offers seven data centers, but neglects to serve users in key areas such as Australasia and much of South Asia (such as India's burgeoning market).
In comparison, Kinsta offers 35 different data centers (and counting!), powered by the stellar premium-tier Google Cloud Platform. Here is the full list of data centers you can choose from:
Changhua County, Taiwan
Hong Kong
Tokyo, Japan
Osaka, Japan
Seoul, South Korea
Mumbai, India
Delhi, India
Jurong West, Singapore
Jakarta, Indonesia
Sydney, Australia
Melbourne, Australia
Warsaw, Poland
Hamina, Finland
Madrid, Spain
St. Ghislain, Belgium
London, United Kingdom
Frankfurt, Germany
Eemshaven, Netherlands
Zurich, Switzerland
Milan, Italy
Paris, France
Tel Aviv, Israel
Montréal, Canada
Toronto, Canada
São Paulo, Brazil
Santiago, Chile
Council Bluffs, Iowa, USA
Moncks Corner, South Carolina, USA
Ashburn, Virginia, USA
Columbus, Ohio, USA
Dallas, Texas, USA
The Dalles, Oregon, USA
Los Angeles, California, USA
Salt Lake City, Utah, USA
Las Vegas, Nevada, USA
The expansive range of data centers means you can choose the right core location for your site. Of course, you can supplement this with our superb Kinsta CDN, powered by Cloudflare.
In addition, there are no extra charges, and the full range of data centers (and CDN coverage) is available across all Kinsta plans. You're even able to use different data centers on multisite plans.
Turbocharging Your Content Delivery with Kinsta CDN
All Kinsta plans include a free Content Delivery Network (CDN) via our Cloudflare integration. This is a premium HTTP/3-enabled CDN, to deliver your content lightning-fast across the globe.
As part of our Cloudflare integration, our built-in Edge Caching saves your Kinsta site/page cache to any of Cloudflare's global network of 260+ data centers.
When site visitors load your website in their browser, cached responses will be delivered from the location closest to them. Edge Caching is included free with all Kinsta plans and doesn't require a separate plugin.
Our content delivery architecture was tailor-made for high throughput and low latency. You can enable Kinsta CDN directly from your MyKinsta dashboard.
Optimized for WooCommerce and Easy Digital Downloads
An ecommerce site has many different needs compared to other types of websites. Because WordPress also has specific requirements, you'll want a host that excels for both platforms.
Kinsta is of course a market-leader when it comes to WordPress hosting. However, our dedicated WooCommerce hosting is also a front-runner. Companies such as DARTDrones use Kinsta's quality to keep income flowing through its site. The predicted 'Shark Tank Effect' after appearing on the program was non-existent thanks to Kinsta's server infrastructure and technology.
We've already mentioned how Kinsta's servers run on Google Cloud architecture, and that the Kinsta CDN makes sure your site loads globally. SSL certificates are free for every plan too, so you're able to encrypt your customer's sensitive data and keep them safe.
Even so, there are plenty of WooCommerce-specific implementations under the hood to benefit from:
Specific caching rules in place to help stores stay online and active.
A host of pages are excluded from caching to help the User Experience (UX).
When certain cookies are detected (such as woocommerce_items_in_cart), caching is disabled to ensure the checkout process is smooth.
You'll also be able to scale your WooCommerce store, given the high-traffic numbers Kinsta is able to accommodate. Our hosting will join you on your ecommerce journey, and never let you down.
Free WordPress Migrations
Once you realize that Kinsta's performance and service is the best in the business, you'll likely want to move all of your sites here. Regardless of whether you're transferring one site or hundreds, we offer hassle-free migrations, handled by our WordPress experts.
Migration of the site over to these guys is a complete simple breeze, they do it all once you send them the site details, although if you are not sure they are on hand to assist you anyway via the online message box in the admin area of your dashboard.
You'll get at least one premium migration for your site regardless of the plan you choose. To get started, simply sign up for a Kinsta plan. From there, fill out the dedicated migration request form, and our team will contact you to arrange a time and date. What's more, you can track the whole migration process from your MyKinsta dashboard.
Expert Support for WordPress
While we have made sure that practically everything at Kinsta is user-friendly and intuitive, we still have a dedicated support team on hand to assist you.
We deliver round-the-clock support through Intercom – a unified customer messaging solution. Each conversation is automatically logged for future reference, and our experts will be fully up to speed on your issue.
In fact, our average response time hovers around two minutes – fast enough to halt any developing issue with your sites. This will keep your downtime to a minimum, and see you back up and running in no time.
Also, time zones and locations are no barrier to offering you support. We have knowledgeable experts ready to assist regardless of where you are in the world, or the language you speak. Each support request is treated as a 'mission-critical' issue, no matter what plan you've purchased.
Kinsta is the best WordPress host I've had so far. They are quick to help, easy to deal with, and really know their stuff. Plus their servers are super fast!
You'll find easy access to support within the MyKinsta dashboard, although there's also a stocked knowledge base containing helpful guides on how to resolve technical queries.
Finally, we also monitor the status of your site every two minutes. Once an issue is apparent, our proactive experts get on the case and immediately begin resolving the issue. We'll be in touch to let you know all of the details, while you carry on working.
Safe and Secure
While Hostinger monitors its servers for malware, this is arguably not enough to protect users and visitors from malicious intent.
At Kinsta, we implement a number of active and passive measures to ensure everyone is kept safe – along with the sensitive data that passes through. Here are just a few of the ways we're keeping you safe:
Automatic backups are made every day, and stored for at least two weeks.
A secure Cloudflare firewall with free DDoS protection.
We monitor your site every two minutes for downtime – that's around 720 times per day – and get to work if there's an issue.
Only SFTP and SSH connections are supported – Kinsta doesn't allow for insecure FTP connections.
Free Cloudflare SSL certificates with wildcard support.
Minor WordPress updates are applied automatically, as they usually deal with security bugs and vulnerabilities. Core updates are still applied manually by you.
IPs that have six failed login attempts in a row are automatically banned.
All sites on Kinsta are automatically protected by Cloudflare's firewall, which includes free DDoS protection. With our Cloudflare integration, you'll get the benefits of enhanced security and performance without having to configure your own Cloudflare account.
We also provide security essentials that you'll use daily. For example, you can implement strong passwords as standard and Two-Factor Authentication (2FA) across your accounts. With Kinsta, you'll have peace of mind that your customers and your sites are safe from malicious attacks.
Feature Comparison Overview
If you're looking for a direct comparison of features, check out the following list. We've provided a breakdown of how Kinsta and Hostinger compare on features:
| | Kinsta | Hostinger |
| --- | --- | --- |
| Pricing | Plans start at $35/month | Plans start at $1.59/month |
| Money-Back Guarantee | 30 days on all plans | 30 days on all plans |
| Plan Tiers | 10 (not including custom) | 4 (WordPress-specific plans) |
| Premium 24×7 Support | All plans | All plans |
| Core Infrastructure | Same across all plans (GCP) | Same across all plans |
| SSH Access | All plans | All plans, except the entry-level |
| Global Data Centers | 35 locations | 7 |
| Free Cloudflare Integration | ✓ | X |
| Bandwidth Limits | No limits (within AUP) | 300,000 visits |
| Container Technology | 100% resource isolation on all plans | Not specified |
| Free Expert Migrations | All plans | All plans |
| PHP Versions | PHP 8.0, 8.1, 8.2 | PHP 5.2-8 |
| Free CDN | 200+ PoPs (All regions) | 200 (Cloudflare) |
| Built-in Edge Caching | 260+ | Not specified |
| Free Premium DNS | Amazon R53 | Cloudflare DNS |
| Free SSL Certificates | All plans | All plans |
| Free DDoS Protection | ✓ | X |
| Uptime Monitoring | All plans | X |
| Resource Limits | Only limited by PHP workers | Varies by plan |
| Multisite Support | Pro plans and higher | On higher tier plans |
| Free APM Tool | Kinsta APM | X |
| IP Geolocation | ✓ | X |
| Reverse Proxy Support | ✓ | X |
| Redis Add-on | ✓ | X |
| New Relic (license required) | ✓ | X |
| Multilingual Dashboard | English, Spanish, German, Dutch, Portuguese, Italian, French, Swedish, Danish, Japan | Arabic, French, Lithuanian, Portuguese (Brazil), Spanish (Spain), Spanish (Colombia), Ukrainian, English, Indonesian, Portuguese, Russian, Spanish (Argentina), Spanish (Mexico) |
Best Affiliate Program in the Industry
When it comes to client expectations, Kinsta is number one in the field, despite Hostinger's successful affiliate program. This means our customers are happy to spread the word about our super managed WordPress hosting and excellent support. It's why we've seen accelerated growth over the last few years.
This is also why we offer one of the highest-paying affiliate programs around. As a dedicated affiliate partner, you'll earn up to $500 for every referral you make, and 10 percent monthly recurring lifetime commissions.
We use 60-day tracking cookies to make sure you're paid for successful conversions. What's more, you're paid every month through PayPal. You can track all of these metrics through a dedicated affiliate dashboard; although, with our low customer churn rate – 4 percent – you'll often only need to glance at how much passive income you're earning from lifetime commissions.
Join Others Making the Switch to Kinsta
Kinsta is serious about innovation. Our technology is cutting-edge, and we want to keep it that way. We're proud to offer best-in-class hardware, and custom software for each of our users. For a real-world look at what we do to constantly evolve our products and services, check out our feature updates and see why we're constantly classed as number one.
We're confident in our managed WordPress hosting. We also want you to be satisfied with every aspect of Kinsta, regardless of your goals. Because of this, we offer a no-quibble 30-day money back guarantee on all sales. If you're convinced with Kinsta, and want to make the move away from Hostinger, take a 30-day trial – risk-free!