Pure Visibility is a digital marketing agency based in Ann Arbor, Michigan that focuses on search engine optimization, paid digital advertising (including PPC, display ads, and social media advertising), SEO protection for website redesigns, and Google Analytics.
They work with a broad range of industries, from small businesses to Fortune 500 companies to improve their online visibility in ways that support both their traditional and digital marketing efforts. They are a Premier Google Partner, Microsoft Advertising Partner, Hubspot Partner, and a WBENC certified women-owned organization.
As an extension of their clients' marketing teams, their expertise in SEO and PPC enables clients to save time and money by partnering with Pure Visibility rather than building in-house teams.
Read our interview below with Tarun Gehani, SEO Director at Pure Visibility.
Snapshot
Industry: Digital Marketing

Company Size: 15-20
The Problem
We were previously using a complicated hosting provider with a custom plan and relied on an outside agency to maintain our servers and backups.
"With Google's Page Experience Update rolling out in June 2021, we were motivated to make some long-needed changes to our website to better optimize for Core Web Vitals, page speed, and our overall organic visibility.
Our team decided to make the most of its limited resources and be strategic about our redesign. Instead of an entire website overhaul that traditional redesigns call for, we decided to first focus on foundational updates that would improve page speed and usability. Our goal was to make the website faster and more user-friendly for our visitors, as well as more easily manageable by our team."
The Solution
Since we wanted to make our website easy to manage for our internal team, it was important to have a host that not only performed well in terms of speed and optimization but was also straightforward to use.
"The first step we took was finding a new hosting provider with optimized delivery, WordPress performance monitoring, easy-to-use staging environments, and backups to bring website management back in-house. We also utilized the research and testing the Kinsta team had done to find a fast WordPress theme to help further improve performance.
Some stats on performance before the changes:
Page performance score on GTmetrix was B (81%)
not bad, but room for improvement

PageSpeed Insights score on desktop of 57/100

Did not pass Core Web Vitals assessment

PureVisibility.com ranked organically for 2841 keywords, with 421 of those ranked on page one of results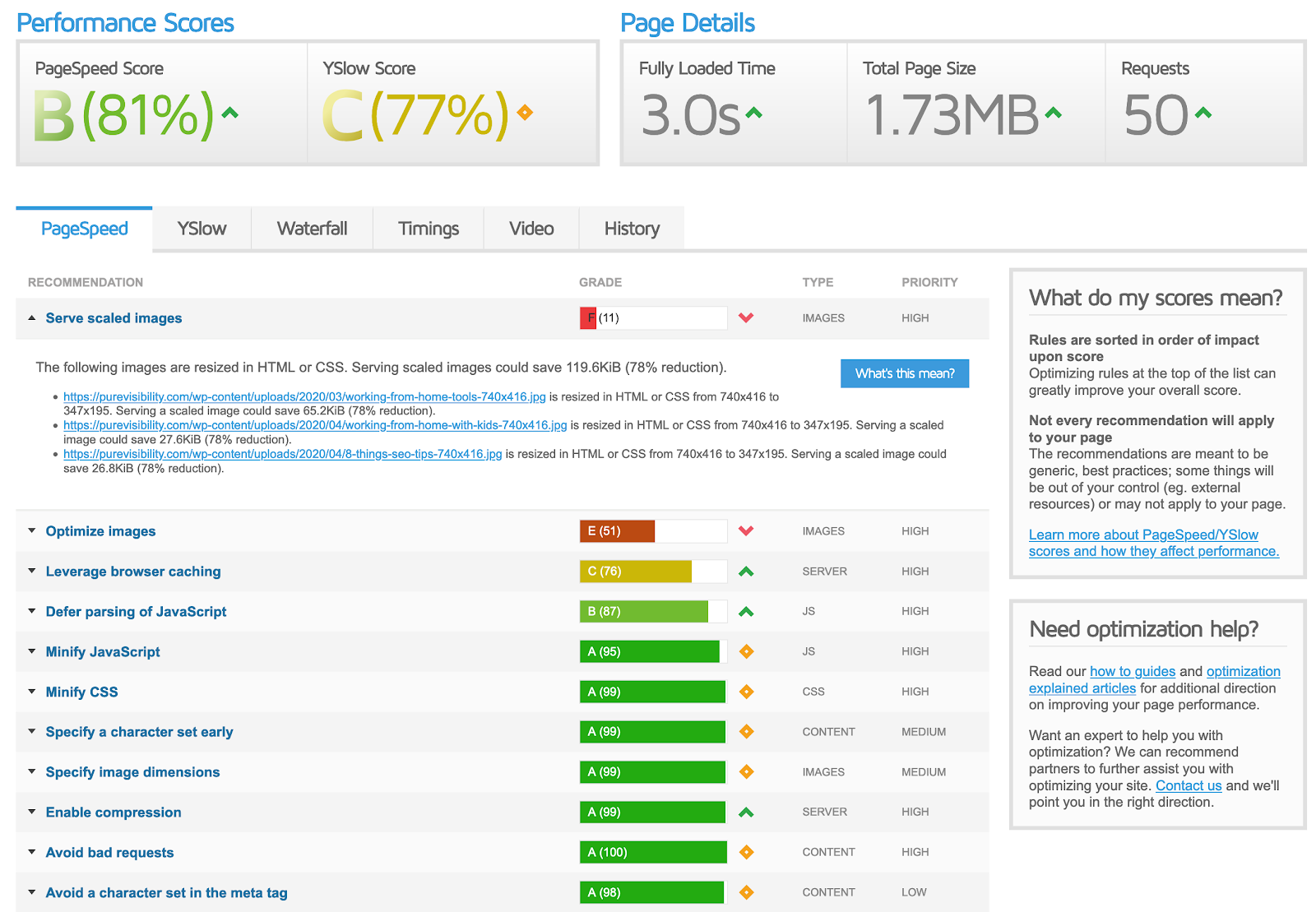 The cost was also a factor, as our marketing team was hoping to reduce overall spending for our website. We found Kinsta servers to be much more affordable than what we were currently using, but with many of the same offerings as larger competitors. The user interface for the admin panel was more intuitive, with straightforward documentation in the knowledge base."
The Result
Pure Visibility's numbers speak for themselves: they saw improvements across page speed, SEO, and overall performance. Coupled with an easy-to-use interface, they have a hosting solution that supports their needs and has allowed their site traffic to take off.
Some stats on performance after moving to Kinsta:
Page performance score in GTmetrix improved to an A (96%)

PageSpeed Insights score improved to 99/100 on Mobile

PureVisibility.com now ranks organically for 5964 keywords, with 574 of those ranked on page one

We also saw an 85% increase in organic traffic to our site compared to the same time last year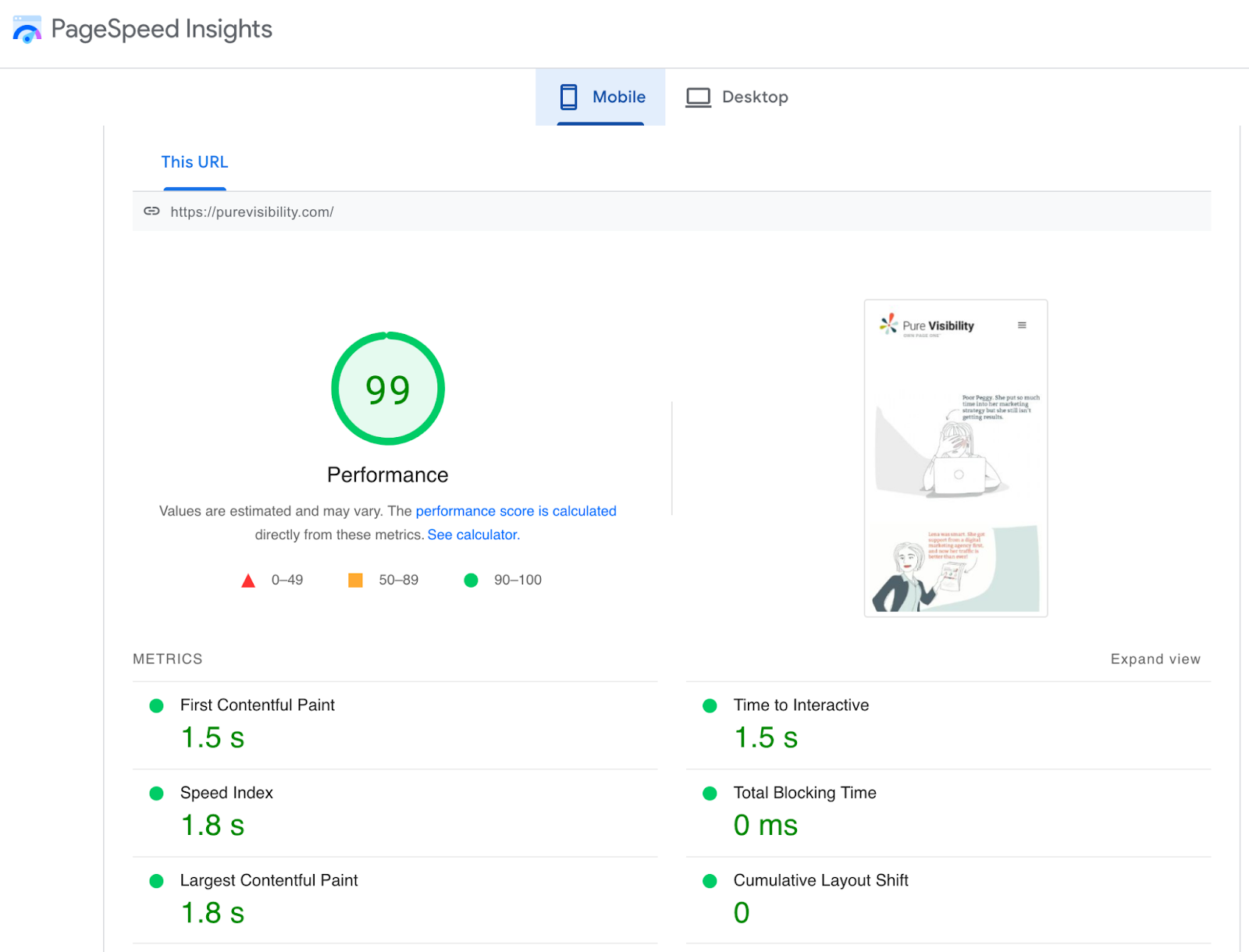 Switching to Kinsta as part of our redesign helped us make great strides in improving page speed and Core Web Vitals, which has directly contributed to better keyword rankings and increased organic traffic.